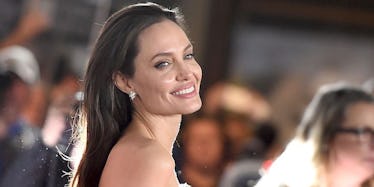 Angelina Jolie Opens Up About Brad Pitt Divorce In Heartbreaking Interview
Jason Merritt/Getty Images
In her latest interview with Vanity Fair, Angelina Jolie is opening about her heartbreaking divorce from Brad Pitt. The two had been together for 11 years, and the actress details the hardships and changes that have followed their split. Angelina Jolie and Brad Pitt's divorce was first filed in September 2016.
When Jolie filed for divorce, she requested full custody of her and Pitt's six children — Maddox, Zahara, Shiloh, Pax, Vivienne, and Knox. When asked about the events leading up to and following the split and how it has affected the kids, Jolie said, "Things got bad. I didn't want to use that word ... Things became 'difficult.'" She later added,
They've been very brave. They were very brave. In times they needed to be. We're all just healing from the events that led to the filing ... They're not healing from divorce. They're healing from some ... from life, from things in life.
An incident between Pitt and Maddox — Jolie and Pitt's oldest child — was apparently the last event that led to Jolie filing for divorce, according to Vanity Fair. There was allegedly a verbal and physical altercation on a private plane the Jolie-Pitt family was on. When they got off the plane, Jolie reportedly left with the kids and filed for divorce not long after.
Jolie said,
It's just been the hardest time, and we're just kind of coming up for air. [This house] is a big jump forward for us, and we're all trying to do our best to heal our family.
The house Jolie refers to is a mega mansion she and her kids just moved into in LA that once belonged to filmmaker Cecil B. DeMille. (If that name sounds familiar, it's probably because you watched Meryl Streep accept the Cecil B. DeMille Award at the Golden Globes earlier this year where she gave her now-famous speech about Donald Trump.)
In the interview, Jolie is careful about the way she words her answers about Brad Pitt. She said,
We care for each other and care about our family, and we are both working towards the same goal.
Before the divorce, there were rumors saying the lifestyle Jolie and Pitt had created for their six kids (that included lots of world traveling) became too much for Pitt. He also revealed in an interview with GQ that he had a drinking problem. In reference to those rumors that their lifestyle was too much for Pitt, Jolie said,
[Our lifestyle] was not in any way a negative. That was not the problem. That is and will remain one of the wonderful opportunities we are able to give our children ... They're six very strong-minded, thoughtful, worldly individuals. I'm very proud of them.
The interview also revealed Jolie was diagnosed with Bell's palsy last year — a condition that causes sudden weakness in the muscles on one side of the face. She said, "Sometimes women in families put themselves last, until it manifests itself in their own health." Acupuncture reportedly helped her fully recover from the condition, according to Vanity Fair.
Jolie also had preventive surgeries in the past after learning she had a gene that made her chances of getting breast cancer very high. (Her mother died of breast cancer in 2007 at the age of 56.) Jolie had a double mastectomy and reconstructive surgery as a preventative measure, and she also had her ovaries removed for the same purpose, which caused her to begin menopause.
When talking about her personal health, Jolie said,
I actually feel more of a woman because I feel like I'm being smart about my choices, and I'm putting my family first, and I'm in charge of my life and my health. I think that's what makes a woman complete.
Amen, girl. The interview also detailed the upcoming Netflix film Jolie directed, First They Killed My Father — a film based on Loung Ung's memoir of her life during the Cambodian genocide.
The film is reportedly coming to Netflix this month.