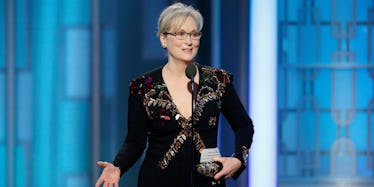 Meryl Streep Chokes Up Over Trump Moment That 'Broke Her Heart' In Bold Speech
REUTERS
Meryl Streep just treated the Golden Globes like her best friend's wedding and gave the most moving, powerful and, frankly, well-researched speech.
The veteran actress, who has won eight Golden Globes herself leading up to tonight's ceremony, took the stage to accept the Cecil B. DeMille Award for her "outstanding contributions to the world of entertainment" and used her platform to do what she does best: bring the damn house down.
Meryl began by commenting on how the event, hosted by the Hollywood Foreign Press, was a meeting of "the most vilified segments in American society right now."
She explained,
Think about it: Hollywood, foreigners and the press.
Mer didn't linger long in the success of her joke, which you bet your sweet ass landed expertly, before listing the origins of the esteemed actors and nominees sharing the room with her.
She scanned the audience, telling viewers,
I was born and raised and educated in the public schools of New Jersey. Viola was born in a sharecroppers' cabin in South Carolina, came up in Central Falls, Rhode Island. Sarah Paulson was born in Florida, raised by a single mom in Brooklyn. Sarah Jessica Parker was one of seven or eight kids from Ohio. Amy Adams was born in Vincenzo Veneto, Italy. And Natalie Portman was born in Jerusalem. Where are their birth certificates? And the beautiful Ruth Negga was born in Addis Ababa, Ethiopia, and raised in Lon -- no -- [in an Irish accent] in Ireland, I do believe... Ryan Gosling, like all the nicest people, is Canadian. And Dev Patel was born in Kenya, raised in London and is here for playing an Indian raised in Tasmania.
DANG, MER. SWEET, FILTHY DANG. YOU ARE A GOOGLIN' FIEND, YOU SLY ENCHANTRESS.
The silver screen legend revealed her intention behind the very personal and touching mention of these stars' beginnings was to prove "Hollywood is crawling with outsiders and foreigners and if we kick 'em all out, you'll have nothing to watch but football and mixed martial arts, which are not the arts."
MER, MY GODDESS. THE ONLY THING SHINING BRIGHTER THAN YOUR WORDS TONIGHT ARE THE MASSIVE ARTS N' CRAFTS JEWELS YOU LET JACOB TREMBLAY'S TINY HANDS SEW TO YOUR PERFECTLY GOOD DRESS.
Not one to stop at merely dragging sports, Meryl went for the blue, ice-cold, blood-like vein sludge of one Donald J. Trump.
She said,
There were many, many, many powerful performances this year... breathtaking, compassionate work. But there was one performance this year that stunned me. It sank its hooks in my heart, not because it was good. There was nothing good about it... It was that moment, when the person asking to sit in the most respected seat in our country imitated a disabled reporter: someone he outranked in privilege, power and the capacity to fight back.
Meryl began to get choked up, explaining how Trump's imitation of disabled New York Times reporter Serge Kovaleski during a South Carolina campaign stop last year "broke [her] heart."
The 67-year-old mother of us all reminded those listening how normalizing hate and intolerance, especially when it's done by the president-elect, makes such behavior seem acceptable to the masses.
She added,
Disrespect invites disrespect. Violence incites violence. When the powerful use their position to bully others, we all lose... We need the principled press to hold power to account, to call them on the carpet for every outrage. That's why our founders enshrined the press and its freedoms in our constitution.
JAYSUS, MER. YOU'RE GETTING VERY LIN-MANUEL INSPIRANDA ON US TONIGHT. BRING IT HOME, YOU HEAVEN-SENT ESSENCE OF GOOD WILL AND RIGHTEOUSNESS.
Meryl invited everyone to "protect journalists" and "safeguard the truth."
For an outrageously emotional finish, Meryl said,
As my friend, the dear, departed Princess Leia said to me once: 'Take your broken heart, make it into art.'
GOOD. NIGHT. SISTER.