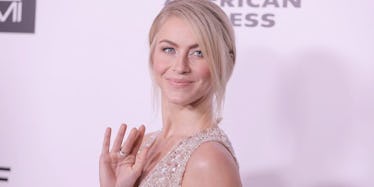 7 Photos That Prove Julianne Hough Was The Most Beautiful Bride On Her Wedding Day
REX/Shutterstock
Summer is wedding season. If you're like me, you are drowning in wedding gift debt and would like a free weekend.
However, one celebrity wedding has given me hope and all the feels. Julianne Hough married NHL star Brooks Laich, and the pictures are everything.
If you want to believe in love again, take a look at these seven wedding pictures of Hollywood's cutest couple.
1. Ultimate Couple Goals
Let's start with the two of them as a couple. Julianne Hough is best known as a bubbly judge on Dancing With The Stars. Her now-hubby is Brooks Laich, NHL star and regulation hottie. They're kind of like Barbie and Ken, except cuter.
2. Ballin' On A Boat
The two were seen zooming around in style on a boat during their big day. Hough reportedly wore a gorgeous Marchesa gown while the groom rocked Brooks Brothers.
3. Famous Friends
There were a ton of famous friends in attendance at the wedding. Actress Nina Dobrev was one of the bridesmaids. How did these two meet? It's kind of a funny, yet surprisingly not that interesting, story. Back in 2013, Hough told E! News,
We've known the same person, Riawna Capri, who cuts and colors and does our hair. She's like 'You guys have to meet.' We've just been like joined — connected at the hip.
4. The New Mr. And Mrs.
Could they be any cuter? The couple posed with their two Cavalier King Charles spaniels, Lexi and Harley. A perfect couple and two cute pups, what more could someone want for their big day?
5. The First Kiss
All the prep, exercising (I'm tired just thinking about it), and family drama is for this moment. That perfect kiss. There's literally confetti sprinkling down around them. Also, her veil survived a boat ride and still looks fab. Major props to her hairdresser.
6. Picture Perfect
How is this wedding possible? It looks like it took place on some sort of field-farm-ocean hybrid wonderland. Boating and skipping through a field is just the beginning for these two.
7. The Bride
Sorry guys, but the wedding day is all about the bride. Jules Hough made such a gorgeous bride. The best part? She is so down to Earth and even had a burger the night before her wedding. That is a bridal diet we can all be on board with.
They kicked off their wedding weekend festivities with some fun in the sun. Hough is working that off-the-shoulder, white bikini.
Julianne Hough and Brooks Laich look like they had the absolute perfect wedding day. Wishing these two the best.