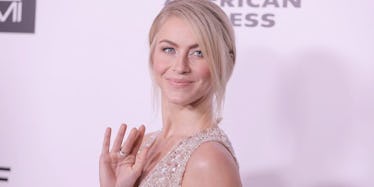 Julianne Hough Reveals 'Bad Episode' On 'DWTS' Led To Endometriosis Diagnosis
REX/Shutterstock
Julianne Hough is one of those people who seems to have it all figured it out.
She's talented (Emmy Award-winning talented), she's close to her family (as in, about-to-embark-on-a-tour-with-her-brother close) and she's gorgeous (I mean, just look at her).
The 28-year-old "Dancing with the Stars" judge, dancer, singer and actress is also engaged to hockey player Brooks Laich and just went on a bachelorette party that was the envy of every bridesmaid and bride with internet access.
This month, Julianne and her older brother Derek Hough are headed out on the third installment of their Move Live Tour, which is designed to empower other people to get out and get moving.
With everything she has going on, though, Hough decided it was time to take a different big step this spring, and open up about an important women's health issue she has been struggling with for over a decade: endometriosis.
Elite Daily sat down with Hough and OB/GYN Dr. Rebecca Brightman to talk about the Get in the Know About Me in EndoMEtriosis campaign, which aims to inspire women to learn about endometriosis, confront their symptoms and seek out a healthcare professional.
One of the more common gynecological issues, endometriosis affects an estimated one in 10 women, yet so few people know much about it.
Hough said she started feeling symptoms at the age of 15, but didn't know what to make of them. It wasn't until several years later, when she was 19, that it got so bad she sought out a doctor and was diagnosed.
"It was something that I had already been dealing with for a long time, but didn't know," she said, "And then 2008, I had a really bad episode and I literally couldn't move, and I was on 'Dancing with the Stars' and during a commercial break I stopped and I was like,  'I can't, I'm sorry, I can't.' And so I left and went to the hospital."
Hough said she hadn't even really considered the pain had anything to do with gynecological problems and it was her mom who pushed her to find out more.
Even if you recognize the symptoms, or even if you know someone who suffers from it, there's a good chance you probably have no idea what endometriosis actually is. Dr. Brightman explained,
There are small lesions, or what we call implants of tissue throughout the pelvic cavity, and the tissue implants, like under the microscope, are similar to the tissue you'd normally find within the uterine lining. So these lesions are hormonally sensitive; they can change during the course of a menstrual cycle because there are hormonal fluctuations, and the net-net of it is, they can occur on the bladder, on the bowel, on the ovary fallopian tube, and they can cause a lot of pain. So typically painful periods, heavy periods, sometimes bleeding in between periods, sometimes intermittent pain throughout the course of a cycle, sometimes pain during sex, difficulty getting pregnant.
One of the most concerning aspects of endometriosis, though, is the fact that it often goes undiagnosed -- and therefore untreated -- for years. While Dr. Brightman said symptom onset usually occurs in 18- to 25-year old women, it can also happen much earlier.
"It can take six to 10 years to actually diagnose some women," she said, "and that's why this campaign has come about because we want to increase awareness of the symptoms so that people can track them and bring their concerns to their doctors for an earlier diagnosis."
Hough ended up getting surgery, but treatment options are different for everyone.
Almost 10 years since her diagnosis, Hough is ready to spread awareness and open up about her experience because she recognizes "the relief when you can sort of put a name to the pain."
"I think that it shouldn't feel scary," she said, "like the word disease is kind of a little intimidating… it's more of a condition."
She continued,
I'm still OK. I'm still working. I'm still doing the things that I love, I'm passionate about. I'm traveling the road… all these things. So you can have a great life if you find it early and... have a great doctor and come up with a plan on how to manage it... I would never want anybody to feel freaked out.
Endometriosis definitely doesn't appear to be slowing Hough down, but that isn't to say there aren't still symptoms; it's not something that just goes away.
"Sometimes it can be debilitating," Hough revealed, "but because I've been in the know, I feel like I have an understanding and the people around me also do so I feel more supported."
"When I have to work and something happens and I have to stop for a second I feel OK and I don't feel like I just have to power through because I'm supposed to," she said.
So how does Hough, who recognizes "mental health is 100 percent a part of this," psych herself up on days when she just feels blah? Well, it's no surprise she turns to exercise.
"I feel like sometimes for me I just got to sweat, I have to get warm," she said.
Other things that help her are hot baths and her dog Lexi, who is the perfect size to act as sort of a warm water bottle she can rest on her stomach.
Hough serves as a great reminder that awareness about your health is paramount, and with knowledge comes power, resources and a support system.
For more information on endometriosis and the campaign, you can visit MEinEndo.com.