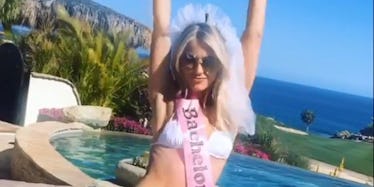 Julianne Hough's Bachelorette Pics Are Serious Inspo For Your Next Girls' Trip
Instagram
No offense meant to the black-out drunk bridesmaids I saw at Olive Garden last week, but Julianne Hough's bachelorette party beats out all the others.
(Actually, all offense meant to those bridesmaids at Olive Garden. I just want to eat my unlimited breadsticks in peace.)
The proof is right there in the photos, which Julianne and her friends helpfully plastered all over their various social media channels.
The 28-year-old "Dancing with the Stars" judge absconded to Cabo San Lucas, Mexico this weekend to celebrate her upcoming marriage to NHL player Brooks Laich.
Julianne brought along several famous friends — like Nina Dobrev, Cindy Crawford and her mom, Marriann Hough — to this extravagant party.
And like I said, there's no shortage of documentation!
Between the Instagram videos and stories, we all know exactly what kind of tropical fun we missed out on.
As you can see, there were a lot of sexy slow-mo vids featuring coming out of water and hair flipping. Is there any other way to party?
Side bar: How is Julianne Hough adding music to her Instagram videos? Asking for a friend.
This party had everything. Like, seven hashtags, for instance.
These include "Jules BEACHelorette," "Bitchin B4 The Hitchin," "Hasta La Vista Hough," "The Final Houghrrah," "The Last Fling B4 The Ring," "BEACHelorette With My BEACHES" and simply "Beach Crew." I'm as impressed as I am angry.
This party had sailing.
It had alcohol.
Like, it had a LOT of alcohol.
It had a pool AND it had the ocean.
It had tiny bikinis.
It had coffee.
It even had babies.
Wait... what?
Yeah, I'm not sure why that baby was there.
So yeah, minus that whole baby thing, which seems kind of weird, this bachelorette party looks like it was lit.
Julianne and Brooks Laich got engaged over a year ago, and have been dating since 2014, so why not go all out, right?
Plus, Julianne needs to get her partying in before she has to go back to work on "Dancing with the Stars," which returns to ABC March 20.