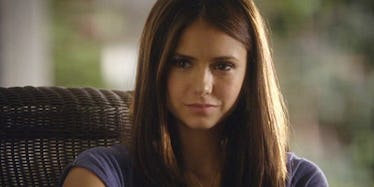 Nina Dobrev Hints At 'Vampire Diaries' Ending In Emotional Instagram
The CW
Nina Dobrev is saying goodbye to "The Vampire Diaries" for the second time in two years.
This time, the goodbye will probably stick, though, as the series finale of the eight-season CW show is quickly approaching.
Dobrev originally left her role as Elena Gilbert in 2015, but returned for "The Vampires Diaries" final episode this year.
The 28-year-old actress took to Instagram on Monday and wrote a lengthy goodbye essay to the show (again) after she finished filming her scenes in the final episode.
At the end of her post, Dobrev explained the meaning behind the keys in the picture: They are gifts she got for the cast from The Giving Keys, a company that employs people who are transitioning out of homelessness.
Obviously, it's a very touching message celebrating the end of a television era.
But if you read this heartfelt goodbye very carefully, you can also get a few hints at what fans are in store for in the season finale.
Dobrev wrote,
Coming back for the series finale has been a whirlwind of emotion, nostalgia, love, tears of joy and bittersweet endings. It feels like the beautiful closure we all needed, myself included, and I couldn't have been happier to come home to be with my TVD set family and friends. I feel the fans family will also be happy with the show's conclusion when they tune in to watch the last episode air in a few short weeks.
A-HA! So we know there will be closure, and we know we will be happy about it! Does this mean Stefan and Caroline will actually get married? OR, maybe Stefan will actually get together with Elena?!
That's the kind of closure I'd like to see, personally.
Again, this is the second time Dobrev has written an emotional goodbye to "The Vampire Diaries" on Instagram.
But this time, she really really means it.
Well, we still have five episodes to go! The series finale of "The Vampire Diaries" will air March 10 on The CW. Let's treasure the remaining Fridays while we still can.
Citations: Nina Dobrev Says a Final Goodbye to The Vamprie Diaries in Emotional Instagram Post (E! News)