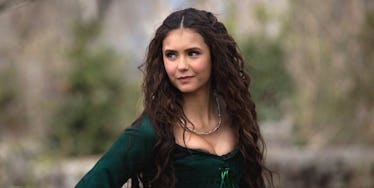 OMFG: Nina Dobrev Is Officially Leaving 'The Vampire Diaries'
Warner Bros. Television
Breaking news, fans of "The Vampire Diaries": Nina Dobrev is officially leaving the show.
Dobrev played Elena on the CW program for six seasons.
Even though "The Vampire Diaries" will be returning for a seventh season, Dobrev will not. Dobrev made the announcement on her Instagram account on Monday evening.
She wrote,
I've just spent the most beautiful weekend on Lake Lanier in Georgia with my own 'TVD' Family, the cast and crew of 'The Vampire Diaries.' I want to be the first to tell you that it wasn't just a holiday celebration, it was a goodbye party. I always knew I wanted Elena's story to be a six-season adventure, and within those six years I got the journey of a lifetime.
It's unclear what Dobrev will do next or how the show will fill the void left by her, but it is clear "The Vampire Diaries" will never be the same.
Here's the announcement from Dobrev:
Citations: Vampire Diaries Shocker Star Nina Dobrev Exits (Hollywood Reporter)