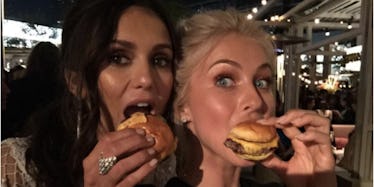 Julianne Hough's Pre-Wedding Diet Includes Burgers, So Sign Us Up
Instagram
Wedding diets always sound so dismal — brides-to-be resign themselves to picking through sad little salads for months to attain the look they think is ideal.
But Julianne Hough seems to be turning that whole notion of wedding diets on its head with her indulgent pre-matrimony treats.
Though we don't know when exactly Julianne and NHL star Brooks Laich, her fiancé of the last year and a half, are tying the knot, it seems like they're getting very close to walking down the aisle.
Hough told Entertainment Tonight back in November they have a date set, and this past weekend she threw her bachelorette party.
But although it looks like her wedding is right around the corner, Hough isn't changing up her diet. The dancer and actress told People she wouldn't feel like herself on the big day if she dieted to lose weight.
If I get super hot for my wedding day and I'm not afterwards, and I'm not before, then it's like, 'Who is this person marrying my fiancé?' Or, 'Who's my fiancé marrying?' I don't want to look different than what I look like normally.
And her photos prove it. Though Hough does keep a naturally healthy diet, and of course exercises quite often, she doesn't shy away from biting into a burger every now and again, as she did a few months ago with bestie Nina Dobrev.
She admitted she's planning on grabbing a burger and beer the night before her wedding to celebrate.
And she doesn't limit her indulgences to red meat — Hough also professed her love for carbs to Us Weekly recently. She admitted she has to have some pasta, rice, bread or other carby treat every so often to "make [her] brain click on."
Of course, Julianne Hough can pretty much gorge on burgers and pasta all day and still look amazing since she works out so much! Obviously she's going to look gorgeous walking down the aisle no matter what.
Citations: Here's Exactly What Julianne Hough Is Eating to Prepare for Her Wedding (Redbook Magazine)