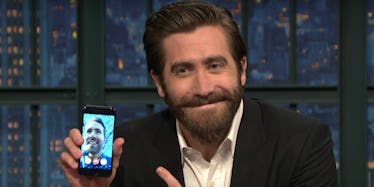 Jake Gyllenhaal FaceTimed Ryan Reynolds And His Baby In Adorable Video
Youtube
Even if "Life" turns out to be a pretty "meh" movie, it's blessed us with one of the most beautiful and important things in pop culture today: the bromance between Ryan Reynolds and Jake Gyllenhaal.
That wonderful friendship reared its glorious head again on Thursday night when Jake FaceTimed Ryan live on TV.
While Jake was talking to Seth Meyers about his upcoming movie with Ryan Reynolds, "Life," Meyers played dubious about the friendship between the two movie stars that's been dominating the press tour, and urged Jake to call Ryan to prove that they are indeed friends.
At this point, I know what your thinking — "Oh God, this feels so staged. They planned the call ahead of time and Ryan is just waiting by his phone right now."
But actually, no! Jake tried calling his costar three times in front of Seth to no avail. It wasn't until Meyers left the stage during a break in the filming that Ryan called back and chatted with his friend in front of the audience. Thankfully there was still a camera filming!
Check out the hilarious convo between the stars below.
I guess Ryan Reynolds missed those first few calls because he was busy walking his newborn daughter Ines. During their call, Reynolds shows Jake and the audience that he's out for a walking pushing around a stroller, and jokes that he's off to get his lips done.
Of course, this is only the latest in the adorable antics that the two stars have done to prove their friendship on their current "Life" press tour. They've been trading compliments all over the talk show circuit, and apparently their intense friendship even got them in trouble while they were filming scenes together on "Life." It sounds like sitting next to your best friend in school: super fun but you wind up not really getting anything done.
Let's just hope that Jake Gyllenhaal and Ryan Reynolds team up for another movie after this one so this bromantic press tour never ends!