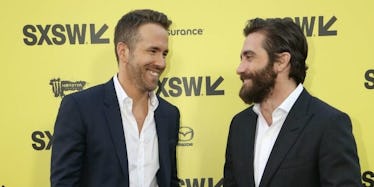 Ryan Reynolds, Jake Gyllenhaal Reveal How Their Bromance Got Them In Big Trouble
REX/Shutterstock
You may think you and your bestie are pretty inseparable, but I guarantee you have nothing on the budding bromance of Ryan Reynolds and Jake Gyllenhaal.
Don't believe me? Well, you will after you read about the story Jake Gyllenhaal told Jimmy Fallon Monday night on the "Tonight Show."
Reynolds and Gyllenhaal are co-stars in the gnarly new sci-fi film "Life," which looks relatively horrifying.
Monday night, Gyllenhaal revealed to Fallon how their time on set helped the pair form a great bromance, and how that bromance got them in serious trouble.
Sitting on one of those comfy late-night TV chairs I'll never even get close to, the 36-year-old Gyllenhaal told Fallon,
The whole movie takes place zero gravity, you know, like we're floating around on wires. So we're being chased by an alien, it's terrifying, but then after when we would cut we just couldn't stop laughing and joking. And it was like we wasted so much money, like, literally laughing. The producers brought us aside took us in the corner!
You may think this is something to laugh about, but it sounds like the producers for "Life" were pretty pissed at Ryan Reynolds and Jake Gyllenhaal.
Gyllenhaal continued to tell Fallon about how his bromance with Reynolds did not sit well with the film's higher ups. He said,
They were like, 'We really need to talk to Ryan and Jake,' and they brought us in the corner they were like, 'You guys need to cut it out. We are wasting so much money! I was like, 'WE'RE STARTING A BROMANCE! Like, give us our time!'
Hey, "Life" wasn't made with Reynolds' and Gyllenhaal's millions, right?
Ryan Reynolds is also out here talking about the star actors' bromance. He told ET at the SXSW film premiere of "Life,"
There's a certain harmony that comes when we're both together.
Gyllenhaal added,
It's a beauty that is unmatched pretty much anywhere, I would think.
Get a room, guys! JK, I wish I had a bromance like this.
Could these two be anymore in love? I think not.
Citations: Jake Gyllenhaal and Ryan Reynolds Got Trouble for Goofing Off on 'Life' Set: 'We Wasted So Much Money' (Entertainment Tonight)