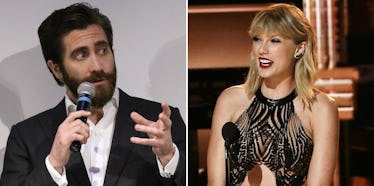 Jake Gyllenhaal Got Super Defensive When Asked About Dating Taylor Swift
REX/Shutterstock
Taylor Swift gave us her two cents (which, in Taylor Swift money is, like, 80 grand) regarding her "rumored" 2010 relationship with actor Jake Gyllenhaal in her song "We Are Never Ever Getting Back Together."
Remember these little lyrical pearls?
I'm really gonna miss you picking fights And me falling for it, screaming that I'm right And you would hide away and find your peace of mind With some indie record that's much cooler than mine.
What an alleged d-bag, maybe! It's no secret Taylor was hurt after their relationship — which he has never publicly copped to being a part of — ended.
DAY 16 - FAVORITE ROMANTIC RELATIONSHIP Taylor Swift and Jake Gyllenhaal (sorry) pic.twitter.com/69hFRKrJJV — isa (@dearkarlie) January 16, 2017
In another song off the same album also "rumored" to be about Jakey Cakes, Taylor sang,
You call me up again just to break me like a promise. So casually cruel in the name of being honest. I'm a crumpled up piece of paper lying here 'Cause I remember it all, all, all too well.
That hits. That hits right in the gut.
"All Too Well" was a more tender approach to summing up the end of the couple's brief time together than "We Are Never Ever Getting Back Together," and, though Jake never speaks about her in interviews, his behavior during a recent chat with The Guardian suggests Tay was right when she sang,
But you keep my old scarf from that very first week 'Cause it reminds you of innocence and it smells like me You can't get rid of it, 'cause you remember it all too well.
I promise I'm done quoting Taylor Swift lyrics. Until later. When I will surely do it again.
In the interview, writer Tim Jonze asked the actor about his time with the pop star, to which Jake answered,
I think when you're in a relationship, you are constantly scrutinized, your friends are scrutinized, but... I would love to not talk about my personal life.
When Jonze claimed he didn't see the line of questioning as prying, but rather a request for a response to "things that have been put out there in the public domain," the actor replied,
I would love to talk about the movie.
YeeeeeeeeeeeeIKES! 
Jake's new film "Life," co-starring Ryan Reynolds, is likely the reason he met with Jonze for the interview in the first place, but the real gift here is knowing Tay Tay doesn't bullshit when it comes to breakup songs... just as we all suspected.
Citations: Jake Gyllenhaal: 'I would love to not talk about my personal life' (The Guardian)