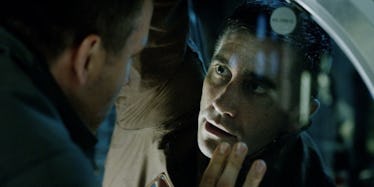 Ryan Reynolds Shades Blake Lively When Talking About Jake Gyllenhaal's Cooking
Columbia Pictures (SONY)
Ryan Reynolds is not the bro who disappears once he's married. In fact, Ryan Reynold's brolationships have never been stronger.
During appearances on the UK's "The One Show" and "Good Morning America" to promote their new sci-fi film "Life," Ryan Reynolds and Jake Gyllenhaal proved their love for one another the old fashioned way: copious praise and sexual tension.
On "TOS," Jake shared,
He's a wonderful man. It's rare, I think, in our business when you meet somebody who's a contemporary where there is literally no competition… It's just a real love. I think that's about just friends you meet at a certain time in your life. We met on this movie. We just became really close friends.
Ryan confirmed the friendship the two built on set continued once shooting wrapped.
He told "GMA,"
We're hanging out all the time. We live near each other. It's cool. I live out in the 'burbs.
In case you're as desperate for elaboration as this bitch right here (I live and die by a well-painted word picture), Ryan opened up about what draws him to Jake.
He said,
Blake [Lively], my wife, is very good at cooking, and Jake might be just a little bit better… He can throw down. It gets very competitive between the two.
Frankly, a cook-off between Jake Gyllenhaal and Blake Lively while Ryan Reynolds just stands there, watching and drooling, is the sexiest threesome imaginable.
Of course, Ry made this confession at the risk of his marriage. He joked,
I'm moving out at the end of the month. I'm actually moving out right now, under this desk. I'm already making plans.
Ryan also called Jake "one of the kindest guys I've ever met" and "definitely one of my favorites," so Blake has plenty to be jealous of here.
It's clear these two have a strong, brotherly bond... but, like, it'd also be totally fine if they wanted to kiss a little. We'd all be here for that. Just... please.
Citations: Ryan Reynolds Says Jake Gyllenhaal Cooks 'Just a Little Bit Better' Than Wife Blake Lively (ET)