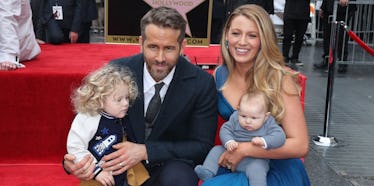 Blake Lively And Ryan Reynolds' New Baby's Name Has Finally Been Revealed
REX/Shutterstock
Blake Lively and Ryan Reynolds have two children... even though no one knows their names.
All right, that's only half true. We know the couple's first daughter is named James, but their second daughter is 2 months old and we still don't know what to call her.
Blake and Ryan haven't shared their baby girl's name -- until now.
DUN DUN DUN.
That's right, Us Weekly has officially confirmed their baby's name is Ines.
JESUS CHRIST, WAS THAT SO HARD?
Right after Blake popped out baby number two, Ryan opened up about fatherhood and his second daughter's name in an interview.
He shared,
It's the best. It's the best! It's the best thing that could ever happen to you. It didn't change the dynamic. There's just more. There's more love. There's more diapers. There's more all that stuff, you know. It's really kind of profound. I just love watching my older daughter take care of the newborn. That's been kind of neat to see.
AWWW, RYAN. You're precious. But when the fuck were you gonna tell us your baby's name?
The 40-year-old actor did say he and Blake "settled on the right one," but that's literally all we've had to hold onto for the past two months.
Maybe Blake Lively and Ryan Reynolds just didn't know what to name the kid. Maybe they've been calling her "baby" or "burp-ball" up until this moment.
Who knows. Either way, I'm happy we now know Ines Reynolds is a human.
The Reynolds children actually made their first public appearance on December 15 when Ryan was honored with a star on the Hollywood Walk Of Fame.
LOOK AT THOSE LITTLE CUTIES. Ryan explained the reason he and Blake brought out the kids for the first time. He said,
This is one of the rare occasions when we thought we got to bring the whole clan. I'd regret it in 20 years if I didn't.
Someone get me some tissues. This family is too perfect to be real. (Seriously, those kids look like dolls.)
If you're emotional right now, you should also read what Ryan said about his family during the ceremony. He told the audience,
I want to thank my wife, Blake, who is sitting right there, who is everything to me. You are the best thing that has ever happened to me. You make everything better. You make everything in my life better. You've given me two of the most incredible children I've ever hoped to have.
GOD DAMMIT, I'M DYING ALONE.
Citations: Blake Lively And Ryan Reynolds Name Daughter 'Ines' (Us Magazine)