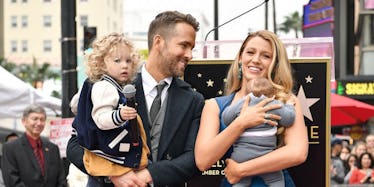 Blake Lively And Ryan Reynolds' Kids Just Made Their First Public Appearance
REX/Shutterstock
You don't even want to know how many times I've googled, "What do Blake Lively and Ryan Reynolds' kids look like?"
Ever since the 29-year-old actress debuted her first baby bump, I have been waiting to see their daughter's beautiful face.
Unfortunately for fans, the famous couple decided to limit the number of photos they share on social media of their children.
We've seen pics of their baby thumbs and the backs of their heads, but finding a nice image or video of baby James Reynolds and mystery baby number two (WTF IS YOUR NAME?) is hard to do.
Well, folks, the day is here: Ryan Reynolds and Blake Lively's two daughters have made their first public appearance.
The family appeared on the Hollywood Walk of Fame on Thursday, December 15, to honor Ryan Reynolds' new star.
The actor took a moment to shout of his family for being with him on this momentous occasion. He said,
I want to thank my wife, Blake, who is sitting right there who is everything to me. You are the best thing that has ever happened to me. You make everything better. You make everything in my life better. You've given me two of the most incredible children I've ever hoped to have.
ARE YOU CRYING? BECAUSE I'M CRYING.
And look, you guys. Here they are!
Oh my gosh, look at those curls. It's "Goldilocks and The Three Bears."
(Only kidding Blake and Ryan, y'all are cute, too.)
Here are some more precious moments with the Reynolds family. LOOK AT THOSE CHEEKS!
OMGGGGGG.
LOOK AT THE LIL' BABY NUZZLING BLAKE'S BREASTS.
LOOK AT RYAN HOLDING BABY JAMES!
Unfortunately, Blake and Ryan's second daughter's name hasn't been revealed yet, but according to Ryan it's "the right one."
OK, whatever that means.
Hopefully they share her name soon because right now I'm just gonna go with "Lil Pooper."
Citations: Ryan Reynolds And Blake Lively's Kids Make First Appearance (E Online)