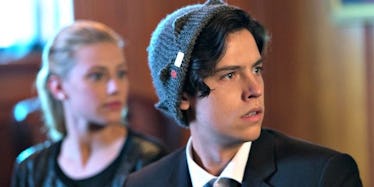 'Riverdale's Jughead And Betty Are Dating IRL And Fans Are Losing Their Minds
CW
Riverdale arrived last winter with a crash, as fans of the original comics found themselves floored (in a good way) by the CW's brand new series. An instant cult hit, the show, based on the Archie comics, found itself spinning in very different directions from the original story, especially with its Jughead character. But not only is Jughead dating Betty in the show, Jughead and Betty are dating in real life.
Elite Daily reached out to both Cole Sprouse's team and Lili Reinhart's team for confirmation, but did not hear back by the time of publication.
In the original comics, Jughead can pretty dismissive towards women, coming off as downright misogynistic at times, while Archie is the one in a tug of war between Betty and Veronica. But on the show, Jughead's asexual image took a major turn when he and Betty found themselves falling into a relationship. Fans, to say the least, went wild.
So you can imagine how "Bughead" shippers went wild this weekend when the actors who play these roles were less than circumspect at San Diego Comic-Con about their relationship. The two of them were there as part of the Riverdale panel that gave hints of what fans should expect to come in Season 2.
But outside of the panel, the cast was seen having fun, including Cole Sprouse, who plays Jughead, and Lili Reinhart, who plays Betty. They were spotted Saturday night and reportedly (we quote!) "canoodling, holding hands, and kissing."
Rumors have been rife that the two of them have been dating ever since Sprouse posted photos of Reinhart to his Instagram back in March and April. But so far, both have refused to discuss their relationship off-camera. As far as Sprouse is concerned, the whole cast is tight, and he isn't going to talk about their private lives off camera and break that faith.
I am one of those guys that's never ever going to talk about my private life with the public sphere. I mean people can talk about the Jughead as much as they want but when it comes to the personal relationships, I have spent much of my life separating work and play so I will continue to do so.
What an extremely healthy attitude to have. We feel like Betty Cooper would approve.
Riverdale Season 2 premieres October 11, 2017 on the CW.