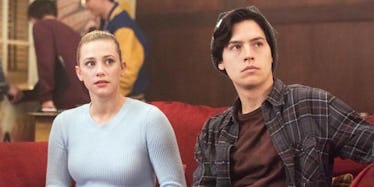 'Riverdale' Star Cole Sprouse On What It Means For Jughead To Be Dating Betty
CW
Riverdale star Cole Sprouse got down to the nitty gritty on what it means for Jughead to be dating Betty on the fan favorite CW show.
When asked about his popular relationship, Sprouse said the move was very calculated, considering the many years of Jughead that have existed before Riverdale (and his disinterest in women). At press roundtables at San Diego Comic-Con, he said,
Jughead has gone through a lot of different iterations over time, about 75 years of Archie comics. He started as a women-hater, which is probably something that wouldn't really fly politically anymore ... It's not really the best one.
After this version came asexual Jughead, written by Chip Zdarsky. Sprouse continued,
And in [Riverdale], he's in love with Betty. And it was something that we had talked about extensively and that has resonated wonderfully ... He definitely goes towards a more original kind of Jughead telling. Season 1 was the origin story for all of these characters and Season 2 is very much a return to those characters.
The rest of the Riverdale cast also attended the convention, where they gave more details about Season 2 and just how much darker it's going to get.
On Saturday, July 22, the first teaser for the Riverdale Season 2 was released by Entertainment Tonight.
In it, we see the events following Archie's dad being shot and how that affects Archie, and how it will continue to affect him over the course of the season. We also see that new side of Cheryl, as she's creepily caressing her mom's bandaged head. She says, "Things are going to be different now, Mommy. Better. You'll see."
As we know, the season will also be 22 episodes, a big jump from the first season's 13. That means more time for Sabrina the Teenage Witch to finally make her Riverdale appearance.
The second season of Riverdale premieres on the CW on October 11.