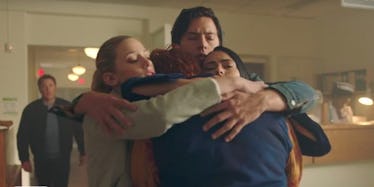 The First Look At 'Riverdale' Season 2 Is Here And It's Intense – VIDEO
Warner Bros.
The wait is finally over... for a first look, at least.
The first trailer for Riverdale Season 2 is here. The video was released by Entertainment Tonight, showing the moments following that insane Season 1 finale.
In the video, you hear Jughead Jones (played by Cole Sprouse) saying,
People will look back at this as the exact moment that last bit of Riverdale's innocence finally died.
As fans know, this second season has so many questions to answer. Who shot Archie's dad? Will Jughead join the Serpents? Who is Betty's brother? When are things going to start making sense around here? (That last one was my own...)
The teaser also includes a pretty creepy scene showing Cheryl Blossom caressing her mom's bandaged face in the hospital. She says, "Things are going to be different now, Mommy. Better. You'll see." In the last season, Cheryl set her own Thorn Hill mansion on fire, saying it was what was needed for her and her mother to start over.
Fans are already losing their minds over the new sneak peek.
This first look proves things are just going to even more intense than they were in Season 1. According to Jughead Jones himself, Cole Sprouse, the second season of Riverdale will be "much darker." He previously told TVLine,
I think the whole show is going to be getting darker and stranger. We're going to be leaning into a lot of those qualities that a lot of people ended up loving in the first couple of episodes — this heavy cinematography, this overbearing coloration, this really dark content that's kind of over-the-top and campy, but it's taken very seriously.
As we know, the season will also be 22 episodes, a big jump from the first season's 13. More time for the ever-awaited Sabrina the Teenage Witch to make her appearance.
The second season of Riverdale premieres on the CW on October 11.