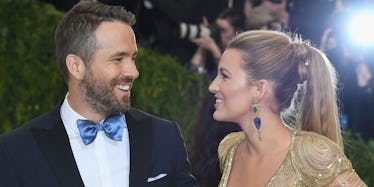 Ryan Reynolds' Tribute To Blake Lively Was The Best Part Of The Met Gala
Getty Images
Ryan Reynolds and Blake Lively are seriously beautiful people.
It's no surprise they were, once again, one of the hottest couples on last night's Met Gala red carpet. They are pretty much one of the hottest couples on any carpet or in any room always.
Blake and Ryan both turned heads in Versace at the annual ball, which celebrated the "Rei Kawakubo/Comme des Garçons: Art Of The In-Between" exhibit.
Blake chose a custom-made Atelier Versace gown adorned with gold chains and vibrant blue feathers, while Ryan complemented her in a navy blue Versace suit.
You'd think that stunning statement would be enough to steal the show, but in fact, it's what Ryan had to say about his wife that made us -- momentarily -- completely forget about the fashion of the night.
The Humans of New York Instagram account, which ordinarily posts photos of normal people in everyday NYC settings and tells their compelling stories, gave us a rare glimpse into one of the more famous humans in the city on Monday evening with a tribute from Ryan Reynolds to his wife, Blake.
The "Deadpool" star's words, which went up just as the red carpet got going at the 2017 Met Gala, will make you bawl like a baby.
He said,
She always responds with empathy. She meets anger with empathy. She meets hate with empathy. She'll take the time to imagine what happened to a person when they were five or six years old. And she's made me a more empathetic person. I had a very fractured relationship with my father. Before he died, she made me remember things I didn't want to remember. She made me remember the good times.
It's fine. I'm fine. We're all fine.
Even Gigi Hadid commented on the post with a bunch of heart and trophy emojis. Yes, we're all swooning.
Ryan and Blake tied the knot in 2012 and are now parents to daughters James, 2, and Ines, 7 months.
This isn't the first time Ryan has opened up about how his wife has helped him work through his struggles. Earlier this year, the 40-year-old revealed Blake helped him with his anxiety leading up to the premiere of "Deadpool."
He told Variety,
Blake helped me through that… I'm lucky to have her around just to keep me sane.
He went on to say,
I have three older brothers. Our father was tough. He wasn't easy on anyone. And he wasn't easy on himself. I think the anxiety might have started there, trying 
to find ways to control others by trying to control myself. At the time, I never recognized that. I was just a twitchy kid.
So if you weren't bawling before (do you have no soul?), you clearly are now.
All. The. Feels.
Citations: Ryan Reynolds' Love Note to Blake Lively Is the Met Gala's Sweetest Surprise (E! News)