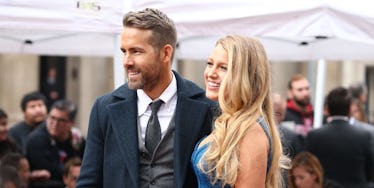 Ryan Reynolds Admitted Blake Lively Helps Him With Anxiety And It Was Adorable
REX/Shutterstock
We don't need another reason to love Blake Lively and Ryan Reynolds, but I'll give you one anyway.
In a new interview with Variety, the 40-year-old "Deadpool" actor opened up about how his wife helps him manage his anxiety.
Ryan Reynolds is a Golden Globe nominee for Best Actor in a Musical or Comedy category for his latest role, making this the first time he's up for such a high achievement.
According to the magazine, the actor had a lot of stress and anxiety leading up to the film's premiere. He explained,
By the time we were in [post-production], we'd been to Comic-Con, and people went crazy for it. The expectations were eating me alive.
He continued,
Blake helped me through that... I'm lucky to have her around just to keep me sane.
I WANT TO HUG THEM BOTH AND FORCE THEM TO ADOPT ME.
This isn't the first time Reynolds has struggled with anxiety. He opened up about where he believes it stemmed from during his childhood. He shared,
I have three older brothers. Our father was tough. He wasn't easy on anyone. And he wasn't easy on himself. I think the anxiety might have started there, trying 
to find ways to control others by trying to control myself. At the time, I never recognized that. I was just a twitchy kid.
Well, Ryan is all grown up now and has two daughters of his own.
In the middle of December, Ryan Reynolds and Blake Lively's children actually made their first public appearance.
Little James and baby Ines looked adorable supporting their daddy as he got his star on the Hollywood Walk of Fame.
AREN'T THEY PRECIOUS? This was the first time we actually got to see how much James looks like her mother.
So seriously, Blake and Ryan... when can you sign my adoption papers?
Citations: Blake Lively Helps Ryan Reynolds With Anxiety (E! News)