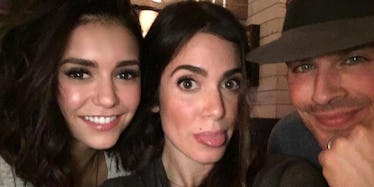 Nikki Reed Addresses Bitter Feud With Nina Dobrev In Huge Instagram Post
Instagram
When you're a celebrity, every day that goes by is just another day in which a new, baffling rumor is created that just isn't true.
Just ask "Vampire Diaries" stars Nina Dobrev, Nikki Reed and Ian Somerhalder.
Ian, who is married to Nikki, was once Nina Dobrev's boyfriend before splitting up after three years together.
Of course, there's been a big rumor floating around there was some kind of feud between Nikki and Nina because of this.
Well, unlike Nina's return to "Vampire Diaries,"  those rumors were just that: RUMORS!
It turns out they aren't true and there actually isn't any animosity between Nina, Nikki or Ian. However, we probably wouldn't have known if Nikki Reed didn't take to Instagram to address the rumors.
In a new Instagram post, which features a photo of Somerhalder, Dobrev and Reed, Nikki says,
Here's to putting an end to all those fake stories of on-set jealousy, betrayal, made-up-friendships lost and women hating women. Because at the end of the day, that's what this is about: teaching girls that you have to hate other girls only.
Reed went on to talk about certain websites that helped stir up drama where there was none.
The actress continued,
Let's use this as an example of how important it is to stop this trend of writing horrible headlines about women, painting us as bitter, angry, insecure, heartbroken, childless, feuding, backstabbing monsters because whether we want to admit it or not, it changes the way all women view themselves. And shame on these websites for now targeting an even younger demographic, instilling this at an earlier age when girls are even more susceptible, more vulnerable and more malleable.
Take that, haters.
Here's Nikki Reed's full post addressing the rumors about a possible feud between herself and Nina Dobrev over Ian Somerhalder.
Ian took to Instagram to post the same photo with a message of his own.
Finally, Nina Dobrev offered her take on the subject.
And THAT, ladies and gentlemen, is how you address untrue rumors and gossip. Take notes!
Citations: Nikki Reed Shuts Down Those 'Bullshit' Nina Dobrev Feud Rumors Once & For All! (Perez Hilton)