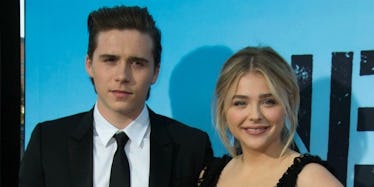 Tiny Detail In Brooklyn Beckham's Instagram Could Mean He's Back With Chloë Moretz
Getty Images/Valerie Macon
There's nothing quite like love. One of my favorite (and relatively low-key) couples may be back together and it's so, so sweet. Recent photos of Brooklyn Beckham and Chloë Grace Moretz are hinting that these two lovebirds are (once again) a couple. They are like the very young Ross and Rachel of our time. Were they alive when Friends was on TV? Honestly, I don't want to know the answer.
Beckham and Moretz first started dating in 2014 for just a couple of months. A few years later, they then reconnected and became an official couple in May 2016. They were basically attached at the hip and were the cutest. Have you seen their pics on Instagram? OH, THE CUTENESS ON INSTAGRAM. *Stares out window longingly.* This is why it was so shocking when the two reportedly split in August 2016. Like, what the hell happened?
Don't you worry because it looks like these two are back on track. Don't they know they'll have a baby together and tell everyone the news at Monica and Chandler's wedding? Oh wait, I'm back on Ross and Rachel again.
Actually, Instagram has exposed their lovers secret. It all started at the beginning of August when Moretz re-followed Beckham on IG. Beckham then revealed he was moving to NYC where he's attending college to study photography. He told People,
I'm studying art and photography, like film and digital – a mix of both. I'm really excited to start and I feel like it'll be a really cool thing for me to focus on for a few years.
Following that news, on Aug. 31, he posted a picture of himself wearing a simple white tee and jeans leaning on some lockers. A sharp-eyed fan caught Moretz's comment of a red heart emoji. Major suspect.
That one comment could mean nothing, BUT IT TOTALLY MUST MEAN SOMETHING. Beckham posted a black-and-white picture of himself watching TV and cuddling someone's legs on Sept. 17. The caption read, "These nights are my favourite [heart emoji]. Missing my girl." Aloof, right? Not really, because he tagged Moretz in the picture. Sooooooo....yeah.
Moretz commented back with another red heart emoji and that weird dead, crying rose. Needless to say, fans are totally digging this reunion.
Let this be a lesson: Social media tells all, kids. If Moretz and Beckham make it the distance, she wins for coolest in-laws. Actually, Beckham's parents troll him all the time on social media.
Beckham's mom, Victoria aka Posh Spice, never misses a chance to snap an embarrassingly amazing pic. In March, Victoria took a picture of Brooklyn snoozing on a train and posted it on her Instagram story with the caption, "He's a laugh!" Come on, mom!
The two were headed to Paris when Victoria snagged the photo. She may be Victoria Beckham, but that's pretty typical mom stuff.
And then, there's David Beckham. That's all. No need to follow that up.
James Corden is essentially me when my friends and I get ready together. Actually, Brooklyn and David are very close. Brooklyn even got a tattoo inspired by his father. He was inked by David's artist, Mark Mahoney, who owns the Shamrock Social Club in Los Angeles.
Brooklyn was influenced by the piece on David's side, a Native American wearing a headdress, and got a similar one on his forearm. Although his tattoo was seen as controversial, it was in honor of dear ol' dad. Brooklyn said in an Instagram post,
Honoured to have my first tattoo done by dads friend Mark Mahoney.
Hot dads aside, I'm glad Brooklyn and Chloë are seemingly back together. I look forward to many more Instagram posts and adorable pictures to gush over. Keep love alive, friends.
Check out the entire Gen Why series and other videos on Facebook and the Bustle app across Apple TV, Roku, and Amazon Fire TV.