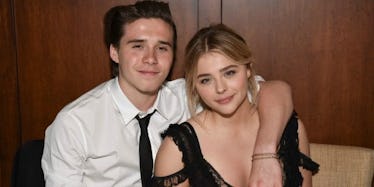 Brooklyn Beckham And Chloë Grace Moretz Are Back Together, According To New Pics
REX/Shutterstock
Look, I really don't fancy myself a gambling man, but if I were going to place a bet this week, it'd be on Brooklyn Beckham and Chloë Grace Moretz dating again.
In August of 2016, Brooklyn Beckham and Chloë Grace Moretz reportedly ended their relationship.
However, it appeared the pair were photographed together for the cover of the September 2016 issue of Teen Vogue.
I mean, who else could this have been with Chloë?
In light of the above Teen Vogue cover, plenty of folks assumed the pair might secretly be dating again.
The Brooklyn Beckham-Chloë Grace Moretz dating rumors might've died down in the fall of 2016, but thanks to a pair of recent photos the superstars posted on social media, we have every reason to believe they're really back together again.
Monday, Brooklyn Beckham posted a photo to Instagram showing off the top of a blonde-haired woman's head.
Is that you, Chloë???
According to ELLE UK, the 20-year-old actress liked Becks' IG photo!
And if one cryptic photo is good, another is, well, that much better, right?
That's right, Sunday, Moretz posted an IG photo of intertwined hands, and the entire universe is obviously thinking the same thing.
I mean, when's the wedding?
These two are clearly dating again. It's only a matter of time before we're all writing about their magnificent fairytale wedding.
During the above mentioned Teen Vogue issue from 2016, Chloë Grace Moretz opened up about what it's like trying to be a celebrity with a private romantic life.
She said,
They want a story. They want a tabloid. Especially right now, in my newer relationship with my boyfriend [Brooklyn Beckham]. We'll go out and there will be 15 paparazzi and we're just going to a grocery store. We are real people and we're having real emotional experiences, and all this is happening around us. Trying to keep ourselves in our own little world is difficult.
Guess we'll just have to watch Instagram like hawks for all the latest updates.
Citations: Brooklyn Beckham And Chloë Moretz Are Back Together, If These Instagram Snaps Are Anything To Go By (ELLE UK)