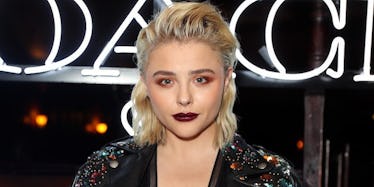 Chloë Grace Moretz's Edgy New Look Proves She's Totally Transformed
REX/Shutterstock
Chloë Grace Moretz is out here proving people can look different, sometimes, you know, when they put on different makeup and do their hair a certain way.
I know it sounds like a weird concept, but if you just give me a chance, I can totally prove my point here.
Exhibit A: Chloë Grace Moretz in the movie "Kick-Ass," seven years ago.
Exhibit B: Chloë Grace Moretz in the movie "Kick-Ass 2," four years ago.
Exhibit C: Chloë Grace Moretz in the movie "Neighbors 2: Sorority Rising," one year ago.
Exhibit D: Chloë Grace Moretz on the red carpet for the TrevorLIVE fundraiser in Los Angeles, four months ago.
Finally, Exhibit F: Chloë Grace Moretz at the Coach & Rodarte dinner in Los Angeles, yesterday.
Wait WHAT? What just happened here? Chloë is that even you?
But...but...but...your hair is pulled back! And you're wearing dark lipstick!
Is this even legal?
My sources have confirmed me with me this is in fact Chloë Grace Moretz, and it is in fact legal.
The 20-year-old actress wanted to change up her look, I guess, after over a decade in the business. And that change involved a dark, bold lip, a reddish-brown heavy eyeshadow and a leather jacket that would put your sixth grade bedazzling projects to shame.
Listen, I'm into it! You know who else is probably into it? Brooklyn Beckham.
Even though the couple technically broke up last summer, there's a decent number of Brooklyn and Chloë truthers out there who believe the couple are secretly back together.
Earlier this month, Brooklyn posted a very suspicious Instagram, which featured an ambiguous head of blonde hair.
Gee, who does Brooklyn know who has hair that color? RIGHT? RIGHT?
Anyway, congrats to Brooklyn for maybe getting Chloë back, and congrats to Chloë on her dope new look.