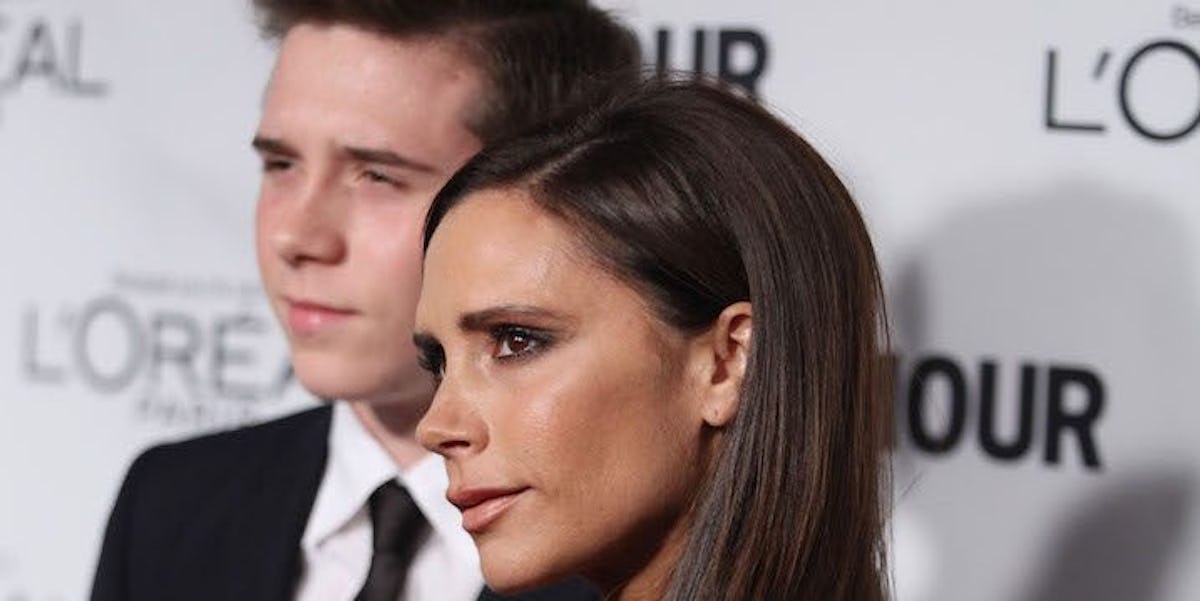 Victoria Beckham Making Fun Of Brooklyn Beckham On Instagram Is Pure Mom Goals
REX/Shutterstock
Victoria Beckham may be an international pop music superstar and a fashion icon, but when it comes to her social media habits, she's just like any other mom with an Instagram account.
Beckham earned major mom points by teasing her 18-year-old son Brooklyn Beckham on Instagram on Friday morning.
Victoria snapped a pic of her kid snoozing on an train, captioning the sneaky shot, "He's a laugh!" I'm sure he is, Vic. I'm sure he is.
The mother and son were on a train ride to Paris when Victoria snuck the photo, as she made clear in several later posts celebrating the Parisian vacation.
The photo features Brooklyn's professional camera, as he's expressed his passion for photography over the past few years.
It also shows Brooklyn's arm sling, which he's been wearing for about a month now since suffering a minor skiing accident over Valentine's Day weekend.
Oh, parents! Always so embarrassing!
It looks like Victoria made the little embarrassing post up to her son a little later, though, when she posted a nice black-and-white photo of Brooklyn holding his camera and looking pensively off to the side.
Brooklyn loved the photo so much, he reposted it to his account and even made it his profile picture.
But although he did get a nice new profile picture from his mom, it looks like Brooklyn can't catch a break online from either of his famous parents.
His dad, David Beckham, trolled him during an Instagram livestream a couple months ago, writing silly comments about how he should be at school and saying Brooklyn was wearing his clothes.
At least Brooklyn can take console in his rumored girlfriend Chloë Grace Moretz if the embarrassing social media teasing from his 'rents gets to be too much.
It looks like the the two young stars are back together again after breaking up at the end of last year.
Hang in there, kid. Just remember any of us mere mortals would put up with a lot worse if it meant having David's and Victoria Beckham's DNA.