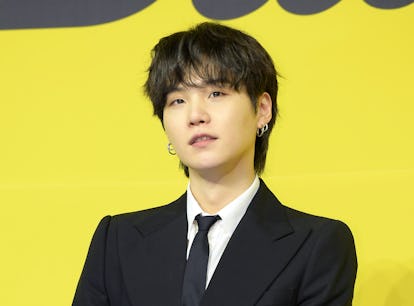 Suga's Hobbies Outside Of BTS Are All About Creative Growth
"I just think that there's nothing to do but write songs."
The Chosunilbo JNS/ImaZinS/Getty Images
BTS is one of the most in-demand acts in the world. Whenever they make a comeback, they make appearances on all the major TV networks across the world. In fact, BTS is so big they're often the closing act at award shows. Since it seems they're always on the go performing around the world, fans must wonder what the guys do when they're not working. BTS' Suga's hobbies reveal he's always keeping busy and learning.
Even before he joined BTS, Suga was already making music as a hobby. While he was in high school, Suga was a rapper who went by the name Gloss. You can actually find videos of him online participating in rap battles. Besides competitions, Suga invested his time in learning piano. He instantly fell in love with the instrument and used it as inspiration for his solo song "First Love," which was featured on BTS' 2016 album Wings.
Nowadays, Suga is still working on developing his musical talents. While he's already an amazing performer, he works hard every day to become even better. That's because he's such a genuine artist who loves creating music for fun. To see exactly what he's up to today, here's a list of Suga's hobbies.