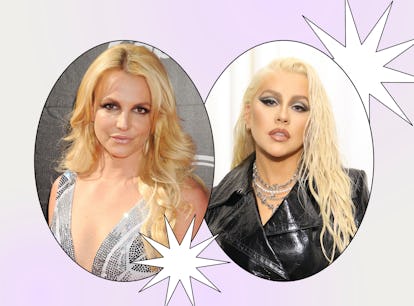 Britney Spears Has Mixed Feelings About Christina Aguilera In Her Book
"It felt like they were just pouring salt in the wound."
Jeffrey Mayer/WireImage/Cindy Ord/Getty Images Entertainment/Getty Images
Britney Spears' latest memoir, The Woman in Me, might be her most freeing project yet. The tell-all — which released on Oct. 24 — takes readers back to the beginning of her career, the height (and eventual end) of her 13-year conservatorship, and her latest decision to step away from music. She spares no detail, especially when speaking about the celebrities who've impacted her life during those years. The singer revisits many of her past complicated relationships in the book, including her friendship with Christina Aguilera.
In the early aughts, Spears and Aguilera were pitted against each other in the media. It was as though there was only room for one pop icon to thrive, and this narrative breathed life into a years-long rivalry. On the surface, it always seemed their feud began after their legendary team-up with Madonna at the 2003 MTV Video Music Awards. However, according to Spears, it appears their complex tango started a little earlier.
In her book, Spears wrote about how betrayed she felt after Aguilera and her ex, Justin Timberlake, worked together in the summer 2003. For context, the duo hit the road together on their Justified & Stripped Tour and graced the cover of Rolling Stone. These decisions were particularly notable, as they came one year after Spears and Timberlake's messy breakup. For an extra dose of mess, Aguilera also spoke about the exes split to Rolling Stone and hinted she wanted them to "reconcile."
At the time, Spears never publicly addressed their joint projects or Aguilera's comment. However, she shined a light on it in her memoir. "In that story, she said she thought [Timberlake] and I should get back together, which was just confusing, given how negative she'd been elsewhere," she wrote. "Even if they weren't trying to be cruel, it felt like they were just pouring salt in the wound. Why was it so easy for everyone to forget that I was a human being—vulnerable enough that these headlines could leave a bruise?"
This moment is just a taste of Spears and Aguilera's on-and-off friendship. From their up-and-coming days on the All-New Mickey Mouse Club to Aguilera's latest comment about Spears' memoir, here's a deep dive on their decades-long relationship.