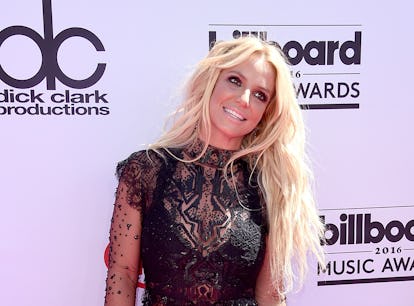 Britney's Book Takes Aim At Justin, Jamie Lynn, & More
"I felt like she should have taken my side."
Everyone knew Britney Spears' memoir would be explosive, and they were right. After a few delays, Spears finally released her tell-all autobiography The Woman in Me on Oct. 24. Even before its release, the book had already spilled gallons of tea thanks to excerpts that were published ahead of time. And some of the most surprising details involve Spears' past relationship with fellow pop star Justin Timberlake.
The Woman in Me is Spears' first major project since her 13-year conservatorship under her father Jamie Spears was suspended in 2021. Due to the constrictive terms of the conservatorship, Spears was unable to publicly speak her truth for over a decade, which is what makes this memoir so crucially important for both Spears and her longtime fans.
A week prior to its release, People published several excerpts from the book, which span from Spears' youth in The Mickey Mouse Club to her current life enjoying her freedom after years of turmoil. Here are all of the most important details about Spears' life that she reveals in the pages of The Woman in Me.
1. She had an abortion while dating Justin Timberlake, because he didn't want to be a father.
One of the book's biggest bombshell's was revealed ahead of its release. While writing about her relationship with Timberlake from 1999 to 2002, Spears revealed she had gotten pregnant.
"It was a surprise, but for me, it wasn't a tragedy. I loved Justin so much. I always expected us to have a family together one day," Spears wrote in a passage excerpted by People. "This would just be much earlier than I'd anticipated."
However, she goes on to say she got an abortion, due to Timberlake's response. "But Justin definitely wasn't happy about the pregnancy. He said we weren't ready to have a baby in our lives, that we were way too young ... If it had been left up to me alone, I never would have done it. And yet Justin was so sure that he didn't want to be a father."
2. She's glad she wasn't cast in The Notebook.
Spears' acting career was a very short one, but it almost included one of the most iconic romance movies ever. She wrote that casting for the female lead in The Notebook had gotten down to her and Rachel McAdams, and when McAdams ultimately got the part, Spears felt relief.
"I'm glad I didn't do it," Spears wrote, revealing she struggled to separate herself from characters she'd played. "If I had, instead of working on my album In the Zone I'd have been acting like a 1940s heiress day and night."
3. She reached out to Jamie Lynn for help, but didn't get it.
Spears wrote that one of her lowest moments was when she was involuntarily admitted to rehab in 2019 by her father. "I couldn't go outside. I couldn't drive a car. I had to give blood weekly. I couldn't take a bath in private. I couldn't shut the door to my room."
She reached out to her sister Jamie Lynn for support, but was shut down. "Stop fighting it," Spears recalled her sister telling her. "There's nothing you can do about it, so stop fighting it."
Spears felt betrayed by her sister's response. "I didn't understand how Jamie Lynn and our father had developed such a good relationship," Spears wrote. "She knew I was reaching out to her for help...I felt like she should have taken my side."
4. She shaved her head because she was sick of people telling her how she should look.
In one of her final major moments before her conservatorship, Spears shocked the world in 2007 when she shaved all her hair off. In The Woman in Me, she finally explains why she did that.
"I'd been eyeballed so much growing up. I'd been looked up and down, had people telling me what they thought of my body, since I was a teenager," Spears wrote. "Shaving my head and acting out were my ways of pushing back."
She continued by saying she was forced to grow her hair back and adhere to strict physical standards once she was placed in her conservatorship. "Under the conservatorship I was made to understand that those days were now over," Spears wrote. "I had to grow my hair out and get back into shape. I had to go to bed early and take whatever medication they told me to take."
5. Her first kiss with Timberlake was at a sleepover as kids.
Before they became boyfriend and girlfriend in 1999, Spears and Timberlake had a little spark when they were both preteen performers on The Mickey Mouse Club.
"[Once] at a sleepover, we played Truth or Dare, and someone dared Justin to kiss me," Spears wrote. "A Janet Jackson song was playing in the background as he leaned in and kissed me."
6. Timberlake broke up with her via text.
Spears revealed that Timberlake broke up with her through a text message in 2002, which she received while she was filming her music video for "Overprotected." "After seeing the message as I sat in my trailer in between takes, I had to go back out and dance," Spears wrote of the moment.
She recalled that she didn't leave her house for a long time following the breakup. "I could barely speak for months. Whenever anyone asked me about him, all I could I do is cry. I don't know if I was clinically in shock, but it felt that way."
7. Her first marriage was the result of being "bored" and "drunk."
Spears made headlines in 2004 when she impulsively married her childhood friend Jason Alexander while in Las Vegas. The marriage last less than three days before being annulled, and Spears got real about why it happened in her book.
"I was just honestly very drunk," Britney wrote. "And probably, in a more general sense at that time in my life, very bored."
She recalled how her family freaked out when they found out. "It was like I'd started World War III," Spears wrote.
8. She used Adderall when partying with Paris Hilton and Lindsay Lohan.
In the mid-2000s, Spears' nights partying with Paris Hilton and Lindsay Lohan were iconic for pop culture devotees. But despite how they looked, Spears maintains in her book that she never drank too much. Her "drug of choice" at that time was Adderall, which she wrote gave her "a few hours of feeling less depressed."
9. She thought her "I'm a Slave 4 U" snake was going to kill her.
One of Spears' most iconic performances was also the most terrifying for her. While she carried that yellow python at the 2001 VMAs, Spears revealed she was actually scared for her life the whole time.
"All I knew was to look down, because I felt if I looked up and caught its eye, it would kill me," Spears wrote of the experience. "In my head I was saying, Just perform, just use your legs and perform. But what nobody knows is that as I was singing, the snake brought its head right around to my face, right up to me, and started hissing."
10. She doesn't care what you think about her risqué Instagram posts.
Spears' Instagram has been a subject of public fascination for years. Recently, the pop star has used to the app to share videos of herself dancing in revealing outfits. She wrote in her book that these posts are her way of reclaiming her autonomy.
"I know that a lot of people don't understand why I love taking pictures of myself naked or in new dresses," Spears wrote. "But I think if they'd been photographed by other people thousands of times, prodded and posed for other people's approval, they'd understand that I get a lot of joy from posing the way I feel sexy and taking my own picture, doing whatever I want with it."
11. Her fling with Colin Farrell was hot and heavy.
Spears described her brief fling with Colin Farrell in 2003 as being incredibly passionate. "Brawl is the only word for it," Spears wrote. "We were all over each other, grappling so passionately it was like we were in a street fight."
The romance didn't last long, although Spears did "think there could be something there." However, she admitted she still wasn't over Timberlake at that time.
This article was originally published on