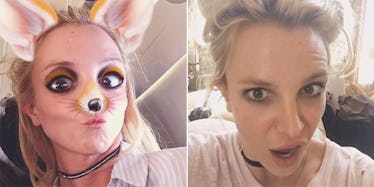 Britney Spears Low-Key Has The Wildest Instagram And We Need To Talk About It
In case you weren't already very well aware, Britney Spears has the best Instagram in the world. Bold claim? Sure. But I've come prepared to back it up with hard evidence.
As anyone with an Instagram account knows, most celebrities on the app will post a bunch of selfies, maybe share some promo for a new project or post notes on their thoughts on current events.
That's all well and good, but they certainly aren't having as much fun on the 'Gram as Britney.
The pop star uses her Instagram account as a canvas to document even her most fleeting of thoughts, and the result is probably the clearest, most enlightening roadmap of what's really going on inside the mind of Britney Spears.
After years of following each and every Britney post, and a lifetime of devotion to Ms. Spears, I'm prepared to carefully dissect all of the various facets of Brit's seemingly all-over-the-place Instagram, and present a portrait of some of her more bizarre obsessions — including anime, vintage pictures of children and Albert Einstein.
So grab a frappuccino, crack open a bag of Cheetos and get ready for this deep dive into the psyche of one Britney Spears.
Brit's Default: Teacups, Cupcakes and Flowers
Let's start off with the surface-level stuff before we dive deep.
A split-second glance at Britney's Instagram account at pretty much any time will quickly reveal her love for pretty stuff — particularly teacups, cupcakes and flowers.
Almost without fail, every third or fourth post on Brit's 'Gram will include one of those three elements, often with Spears commenting on how pretty the photo is.
I like to look at these random "pretty pics" as little palate cleansers between Brit's more personal posts, but they also give us some invaluable insight into Spears as well. For instance, she's apparently always down for a tea party. That's something, right!?
She even put a rose in her shirt to be sure to get a teacup and flower in the same pic in a recent post, calling them her "favorites."
As an addendum to this section, I'd also like to bring up Britney's profound love for "sassy" coffee mugs, which is well-documented in her Instagram, including TWO DIFFERENT mugs that both read "It's Motherfucking Tea Time."
Mom Memes and Inspirational Quotes
Nowhere is it more clear that Britney loves her two sons, 11-year-old Sean Preston and 10-year-old Jayden James, than on her Instagram.
I'll delve more into a particularly interesting aspect of that a bit later, but for right now, let's focus on Brit's mommy habits on social media. And when we talk moms on social media, the first thing that comes to mind is memes.
As many of Brit's followers are already aware, she looooves a funny meme as much as a good inspirational quote.
Her page is packed with inspirational quotes that she has either Regrammed or posted herself, and among them are quite a few memes she found funny. And yes, in true Facebook-mom fashion, Minion memes are among them.
It just goes to show you, even though Britney is a global superstar, she isn't immune to the pratfalls of being a meme-loving momma on social media.
Vintage Pics of Children Kissing
Now we're getting into some of Britney's more niche interests, one of which is old-timey photos. Spears loves to post vintage pics of all sorts of things, but the subject she clearly finds cutest is little kids kissing.
Yep — it's a pretty specific obsession, but Brit has more than proved her love of these pics by posting tons of them to her Instagram.
Like seriously, she really loves these pics. Maybe Brit is missing the days when her boys were younger? She did say she wanted to have some more kids recently during her "Carpool Karaoke" segment with James Corden, so maybe these pics are just her longing for more little ones sometime soon.
And just to add one more thing on, Brit's love of vintage photography isn't limited to just kissing children. She also posts some seriously creepy old-timey pics to her account with no explanation.
Like, seriously.... What's going on here?
Religious Content
Britney Spears' religious life has been a roller coaster ride for years — the singer was raised Southern Baptist and famously converted to Kabbalah and later to Hinduism for a bit.
Recently, Spears seems to have returned to her Christian roots, as evidenced by how often she will post religious quotes and photos to her Instagram.
Along with posting some Bible quotes and religious photos of her own, Spears also Regrams them from her younger sister, Jamie Lynn Spears, who is much more vocal about her Baptist faith on her social media accounts.
Brit's Kabbalah phase came during the famously erratic period of her life in the mid-2000s. It seems clear that as her life has settled down a bit more and become more stable, Spears has reconnected with her spirituality. Hey, if it makes her happy, I'm all for it!
Lisa Frank-esque Rainbow Photos
In the same vein as those colorful pictures of flowers and cupcakes that I've already gone over, our girl also loves to go full technicolor with vibrant, rainbow photos of kittens and scenery that look like they were plucked right out of Lisa Frank's wildest dreams.
The subject of most of these technicolored photos seems to be cats and butterflies, two animals Brit posts photos of a lot just in general.
There's not really much else to say about this other than Britney just loves a ton of bright color, which I think we kind of already knew.
Anime
Here's the section where we can really see Britney's love for her sons.
As we all know thanks to this popular Tumblr post, Britney Spears invented anime with her 2007 music video for "Break the Ice," and subsequently made another animated music video for 2008's "Kill the Lights." Well, those videos may have actually been more for her sons than anyone else.
As we now know, thanks to Brit's Instagram, her sons are really huge fans of anime — particularly "Dragon Ball Z" and "Pokémon." Spears will often post photos that her sons drew as encouragement, even an anime-style drawing that one of them did of her, along with some proud comments.
And her anime encouragement doesn't just happen online. Spears threw her sons a whole "Pokémon"-themed birthday party last year.
And the superstar mom was overjoyed to share a photo of her son dressed up as the "Dragon Ball Z" character Lord Frieza just a month later.
Intellectual Pursuits, Pi and Albert Einstein
OK, now let's get to the really good stuff!
In my opinion, the absolute best Britney Spears Instagram content is her inscrutable posts about mathematics and science. Though she hasn't made one of these types of posts recently, she did share her intense interest in the mathematical concept of pi last year.
And before that there was her tribute to Leonardo da Vinci's "Vitruvian Man" sketch, which she accompanied with a prayerful caption.
I don't even know where to begin with this next one, but I love it.
But it's Britney's obsession with Albert Einstein that fascinates me most of all. Spears has posted Einstein quotes a few times, and straight-up professed her love for him in a couple Instagram posts.
She even gushed the late mathematician would be the first person she spoke with in heaven.
I feel pretty confident that nobody would have guessed Britney Spears' biggest inspiration is Albert Einstein -- but hey, that's why we have her Instagram to learn these crazy things!