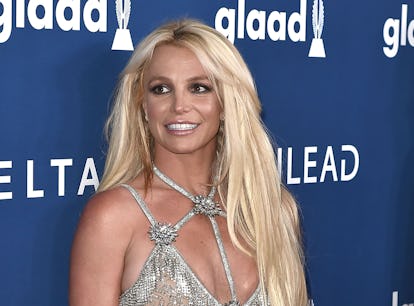 Britney's Memoir Is Hitting Shelves This Fall & It Sounds Super Dishy
You want more? Well, Britney's about to give you more.
David Crotty/Patrick McMullan/Getty Images
Britney Spears is finally going to be able to tell her story in her own words. The superstar's personal life has become even more of a hot topic than ever before in recent years as she was finally freed from her conservatorship, but Spears herself has been critical of how her story's been told. She's repeatedly denounced the various documentaries that were made about her complex legal situation, and even called out her own sister Jamie Lynn Spears' memoir for "lying and making money off of" her. Now, she's ready to reveal the truth. Spears announced her autobiography The Woman in Me on July 11, revealing that her book will hit shelves very soon.
There had been rumors that Spears was working on a tell-all memoir for over a year before the announcement of The Woman in Me. Back at the start of 2022, reports surfaced claiming Spears had signed a $15 million contract with Simon & Schuster to publish her life story. The book's release was then delayed, first because of a paper shortage, and then reportedly due to certain celebrities expressing their concern over what Spears might reveal. While those reports could just be gossip, it still sounds like the book is definitely going to deliver when it comes to juicy deets.
Spears officially announced the book in an Instagram post on July 11, with a video that read, "My story on my terms, at last."
If you can't wait to dive into Spears' first book, here's all the info you need to know.
Britney Spears' The Woman In Me Release Date
The memoir will hit shelves on Oct. 24.
Britney Spears' The Woman In Me Cover
The cover art for The Woman in Me promises that Spears will bare all her secrets for the first time.
Britney Spears' The Woman In Me Details
It sounds like The Woman in Me will have a particular focus on Spears' highly publicized legal battle to terminate the 13-year conservatorship she was involuntarily placed under in 2008.
"Britney's compelling testimony in open court shook the world, changed laws, and showed her inspiring strength and bravery," Jennifer Bergstrom, Gallery Books Senior Vice President and Publisher, told People when describing the memoir. "I have no doubt her memoir will have a similar impact — and will be the publishing event of the year. We couldn't be more proud to help her share her story at last."
Britney Spears' The Woman In Me Pre-Order
The Woman in Me is available for pre-order now on BritneyBook.com.