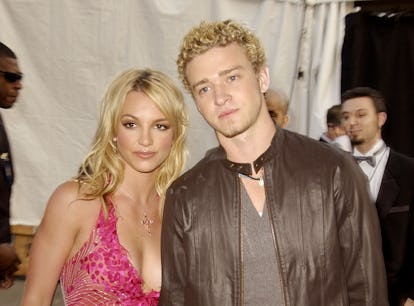 Justin Confronted The Man Britney Cheated On Him With During SNL
*rewatches this episode immediately*
Britney Spears' memoir The Women In Me is full of big reveals. In the book, Spears shares plenty of details about her relationship with Justin Timberlake. The couple dated publicly from 1999 to 2002. Although their romance was everywhere at the time, there was plenty fans didn't see, including surprising parts of their history that Spears is now bringing to light.
The pop star goes into tons of specific details about what her relationship with Timberlake was really like. Most notably, Spears and Timberlake both cheated on each other over the course of their relationship — though Timberlake was the one to make it a habit, Spears wrote.
In the book, Spears admitted that she cheated on Timberlake with Wade Robson, a dancer and choreographer she and Timberlake's band NSYNC worked with. Apparently, they danced together and made out at a Spanish bar. However, Spears wrote that she and Timberlake discussed the cheating at the time, and they "agreed to move past" it considering she had been "loyal to Justin" and "only had eyes for him" for years.
But there was a bit of drama before they could fully move on. A source told Page Six that Timberlake confronted Robson while at Saturday Night Live in 2002. Spears was hosting the Feb. 2 show, and Timberlake was on hand to make a surprise appearance in her monologue.
Apparently, their actual dynamic that night was much less funny that it appeared on TV. "Justin had found a letter which made it clear that the affair had been going on for months and that she and Wade had been sleeping together," Page Six reported.
The source claims Timberlake called Robson on the phone while Spears was in the middle of the show. Notably, Timberlake did not return to the stage for the end-of-show farewell.
The Women In Me also claims that Timberlake cheated on Spears "a couple of times" while they were together. Per Page Six, in 2000, Timberlake was photographed with Nicole Appleton, who was part of the band All Saints, while he was in London.
It's a detail Spears brought up in her book, though she didn't name names. She just recalled how he was spotted out with "one of the girls from All Saints" about a year into their relationship.
Spears reflected on another cheating incident in the book, claiming that Timberlake once told one of her dancers about a hookup from the night before in Las Vegas. According to Spears, Timberlake said he "hit that last night."
Considering how the NSYNC singer painted Spears as the cheater in his "Cry Me A River" music video, her new revelations came as quite a shock to fans. Timberlake himself has never directly addressed the cheating allegations, but he did discuss the inspiration behind "Cry Me A River" in his 2018 book Hindsight: & All the Things I Can't See in Front of Me.
"I've been scorned. I've been pissed off. I wrote 'Cry Me a River' in two hours. I didn't plan on writing it," he wrote at the time, per Us Weekly. "The feelings I had were so strong that I had to write it, and I translated my feelings into a form where people could listen and, hopefully, relate to it. People heard me and they understood it because we've all been there."
In 2021, after clips of "Cry Me A River" and interviews of Timberlake talking about his and Spears' sex life resurfaced, he publicly apologized to his ex. "I've seen the messages, tags, comments, and concerns and I want to respond," he wrote on Instagram. "I am deeply sorry for the times in my life where my actions contributed to the problem, where I spoke out of turn, or did not speak up for what was right. I understand that I fell short in these moments and in many others and benefited from a system that condones misogyny."
This article was originally published on