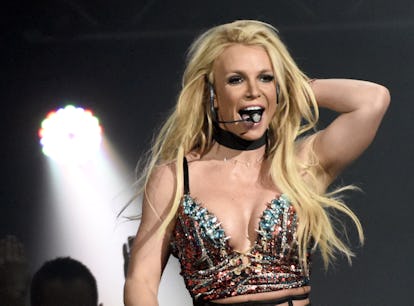 Britney Confirmed She's Quit The Music Business
It sounds like she's sung her last song.
Tim Mosenfelder/Getty Images Entertainment/Getty Images
Sorry, Britney fans, but you probably won't be able to see her in concert ever again. In the whirlwind of new information Britney Spears has been dropping from her tell-all memoir The Woman in Me, the pop star confirmed she's quit the music business. And she actually did it quite a while ago.
Spears posted a statement on her Instagram on Oct. 20 to address all the reports that have come from early excerpts of her book. In the week before its release, multiple passages were published that shed light on some dark secrets from Spears' past, most notably the she had an abortion while dating Justin Timberlake after he told her he wasn't ready to be a father.
The details generated a tidal wave of media coverage, which Spears railed against in her Instagram message.
"My book's purpose was not to offend anyone by any means !!! That was me then ... that is in the past," Spears wrote, going on to reveal that intense media attention led her to quit the music business in 2019. "I don't like the headlines I am reading ... that's exactly why I quit the business 4 years ago !!!"
The revelation isn't too surprising to longtime fans. Spears has made comments that she'll never perform again in recent years, but this is the first time she's flat-out said she's done with the music business.
The timing of her decision to quit makes sense. 2019 was when the #FreeBritney movement was born and Spears attended multiple hearings to terminate her father's conservatorship of her. Since then, Spears hasn't focused on music.
She has released a couple of new songs in these past four years, but both were one-off collaborations that did not signal an upcoming album. In 2022, Elton John featured Spears on a remixed version of "Tiny Dancer" called "Hold Me Closer." And earlier in 2023, Will.i.am reunited with Spears on the club track "Mind Your Business."
It sounds like Spears isn't really interested in returning to her pop-star days now. In the rest of her note, she emphasized how excited she was to leave the past in the past and have a "clean slate."
"Most of the book is from 20 years ago ... I have moved on and it's a beautiful clean slate from here," Spears wrote. "I am here to establish it that way for the rest of my entire life !!!"