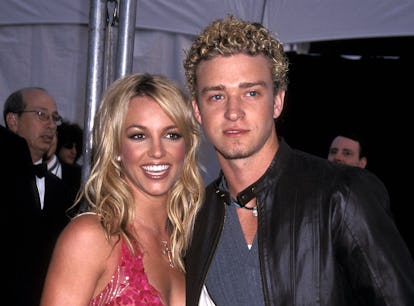 A Look Back At Britney & Justin's Rollercoaster Relationship
They've been trading shady comments for years.
Ron Galella, Ltd./Ron Galella Collection/Getty Images
Britney Spears and Justin Timberlake were the golden couple of the late '90s and early 2000s for good reason. At one point, in the thick of their romance, Spears literally said "he's everything" about Timberlake. (Don't worry, he gushed about her plenty, too.)
Unfortunately, things didn't end quite so happily between the two of them. After the couple announced their breakup in March 2002, they quickly transitioned from being lovey-dovey to downright shady. Looking back at Spears and Timberlake's relationship timeline is super sad.
In the fall of 2002, the former couple started trading a series of public barbs that are hard to see — Timberlake's comments, in particular, were cutting. Post-breakup, the NSYNC frontman decided to publicize the intimate details of his sex life with Spears. It was... not a good look, especially considering that up until that point, Spears had publicly refused to comment on those aspects of their relationship and said that she planned to wait until marriage for sex.
So how did these former lovebirds get to that point — and where do they stand now? Spears and Timberlake's relationship is a bit of a doozy, but here are the highlights (and lowest lows).
This article was originally published on