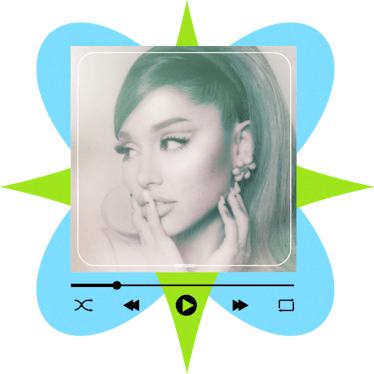 I'll Never Forgive Y'All For Sleeping On Ariana Grande's Positions
The year 2020 was a chaotic roller coaster ride. We all found ourselves stuck inside dealing with unexpected self-isolation. Musicians were also clamoring for some sort of escape, and many released albums that kept fans distracted from reality — even if only for a brief moment. And in that creative explosion, some created records that went on to become contenders for my list of Holy Grail albums. While a few of those releases have waded out of recent memory, there's one that will never leave my good graces: Ariana Grande's Positions.
Positions, which was released in October 2020, continues to be the most overlooked album in her discography. It's an odd reality, considering R&Biana — her soulful-leaning alter-ego that had been caged for a few years — poked her head out of hibernation. This persona isn't new territory for Grande, as she teased its potential in 2014 on the B-side of her second album, My Everything. Even when she detoured to make her most experimental pop album to date, 2018's Sweetener, that essence was still there.
As though she had something to prove, R&Biana returned with a winking smirk in the following years. From those syrupy melodies on her 2019 duet with 2 Chainz, "Rule The World," to her jazzy "Boyfriend" moment with Social House, she was performing like her rent was due. There's a lilting confidence in her voice on these tracks, almost as if she knew the final product would eat. But it wasn't until Positions that her R&B prowess reached its full power; however, the reception was a bit lukewarm. A little too lukewarm, honestly.
Within months of Positions' release, many Arianators jeered it as her "worst album ever made." Some music critics echoed a similar thought and noted it lacked the charisma from her previous works — or as one fan passionately wrote, the record pulsed with no "stand-out moments." These critiques seemed to swallow the album's era whole, especially since it never had the chance to breathe.
Besides two notable singles ("positions" and the saucy "34+35"), this album's run was notably short-lived. It's reported that the project's main visuals were scrapped for unknown reasons; however, Grande never confirmed if she had more in store for Positions. It wasn't long until several unreleased teasers from the album leaked on social media, an unfortunate phenomenon that's followed her career in recent years.
That's not to say the record didn't receive some well-deserved attention. In June 2021, Grande honored its overlooked charm with a few Vevo Live performances. And as always, the mic was on. With some groovy lifting from her live band, the singer's lush harmonies come alive with every guitar whirl and pulse of her electronic loop station. She belts as though she's being guided by a golden energy from within, and that makes this record such a necessary gem in her discography.
These performances would be her final salute to Positions, as she retired R&Biana to become Wicked's own Glinda that following year. Yes, I'm still in mourning. Positions deserved a better safety net, one that would've embraced the album's misunderstood glow the way it took years for listeners to appreciate the complicated beauty of Sweetener. Let's look at the underrated material.
On the opening track "shut up," Grande makes the ultimate statement: It takes nothing to mind your own business. With theatric whimsy, the singer quips that people shouldn't spend their time trying to dim her light, as she's become more secure with herself. "How you been spending your time? How you be using your tongue? You be so worried 'bout mine," she croons.
Her voice glistens with sarcasm, almost as if she sprinkled a Regina George-esque snark over a Cinderella score. If only my inner thoughts sounded this majestic when met with unsolicited opinions. This subtle read kicks off the record's campiest moments, where she uses slinky synths and flirty one-liners (her winking for a 69 session on "34+35") to bring listeners into her new-romance glow. At the time of Positions' release, the singer had just started dating her now ex-husband Dalton Gomez.
After a dance-pop break ("motive") and a sly manifestation anthem ("just like magic"), the beating heart of this intimate album shows itself. Armed with warm soul, Grande creates more sonic chemistry with The Weeknd on "off the table." This weepy ballad hones in on both of their strengths, with The Weeknd softening his anti-hero persona to be a romantic lead. Meanwhile, Grande pleas for "him to be there" to catch her love, her desperate cries paving the way for her best vocal runs. It's just a stunning track.
The beauty continues on the Ty Dolla $ign-assisted "safety net," which should've been a single — I'm just saying. Their voices bloom in a synchronized dance, with both passionately wondering if it's safe to let their guards down with one another. Grande soon allows herself to become vulnerable, and that sensitivity can be heard in the underrated "west side," "pov," and "love language," where she's more than ready to make the romance official.
As if her cheekiness on "34+35" wasn't enough, the singer offers another delicious insight into her erotic mind. On the neo-soul draped "my hair," Grande gives her partner a step-by-step guide on how she wants to be touched. And if he follows her instructions? She promises to slip her tresses out of her signature ponytail. She closes the track with her honeyed whistles, which are about as sweet as her Just Like Candy perfume. That aromatic flourish deepens to a warm gourmand on "nasty," a territory that I'm hoping she revisits in her future material.
It's a shame that Positions wasn't in the conversation about promising albums that were released in 2020. The singer funneled her finest vocal ability into this record, ultimately creating an R&B dream that's been topping my Apple Music Replay playlists for two years. Will R&Biana make a return? Only AG7 will tell.