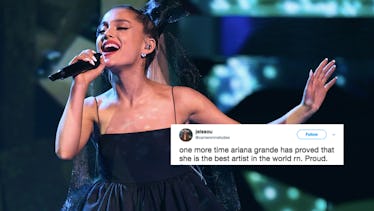 Twitter Is Losing It Over Ariana Grande's Album Because It's Totally Her Best Yet
Kevin Winter/Getty Images Entertainment/Getty Images
Are you already obsessed with Ariana Grande's new album, Sweetener? Because I 100% am. On Aug. 17, Grande did the world a huge favor and finally released her highly anticipated fourth album. And if you thought that her first three singles, "No Tears Left To Cry," "The Light Is Coming," and "God Is A Woman" were absolute perfection, then you better prepare yourselves, because nearly every track on Sweetener is #flawless. But it seems like everyone is agreeing with my stance on this one, and these tweets about Ariana Grande's Sweetener shows that her fans on social media already know just how epic this album truly is.
Back in May, Grande went on The Tonight Show Starring Jimmy Fallon and announced her upcoming album, explaining the reasoning behind the album's unique name. "It's kind of about bringing light to a situation or to someone's life or somebody else brings light to your life," she revealed to the audience. And can I just say that Sweetener is not only bringing me life, but GIVING me life right now? And the 15-song tracklist that Grande has gifted the world is clearly resonating with all of her fans.
Many Ariana Grande supporters took to Twitter to express their thoughts on the album, and, spoiler alert, almost everyone is obsessing over each track on the album:
Others just gushed about the album itself and how talented Grande truly is:
Killin' it, Ari!
You can listen to Sweetener in all of its beautiful glory below:
One song in particular that has struck a chord with her audience was "Pete Davidson," which was initially titled, "Pete."
Back on July 20, an Instagram user commented on one of Grande's posts saying that they thought Grande making a song for Davidson was a bad idea. Unsurprisingly, Grande responded, defending her choice. "He's my fiancé. This is my album. I'm an honest and emotional artist and human being and if my openness in my work isn't for you, that's OK; I won't be offended. Still wishing y'all all the love in the world."
When Grande altered the song title, though, many fans were wondering if the reason was because of the Twitter ~drama~ going around, but nope!
A fan asked Grande the reasoning behind changing the track name, and Grande responded, "I like the way it looks, I love his name and I love him," she said, adding, "music lasts forever. It'll outlive any tattoo, any memory, any anything, even myself so i want my love for him and how i feel to be a part of that."
Well, damn! That's as good a reason as any if you ask me.
And the lyrics to "Pete Davidson" *definitely* show off her feelings for her fiancé:
I thought you into my life, woah / 
Look at my mind, yeah / No better place or a time / Look how they align / Universe must have my back / Fell from the sky into my lap / And I know you know that you're my soulmate and all that / I'm like ooh, ooh / My whole life got me ready for you, ooh
 Got me happy, happy
 / I'ma be happy, happy, yeah
Just one small sampling of the amazing music that Grande has put forth on this track.
Now that Sweetener is here, I can honestly say that it has lived entirely up to expectation, and Ariana Grande proves once again that nearly everything she touches turns to musical gold.