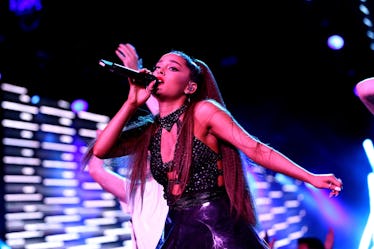 Here's How To Stream Ariana Grande's 'Sweetener' Because You Know You Need To ASAP
Rich Polk/Getty Images Entertainment/Getty Images
Ariana Grande's fourth studio album dropped on Aug. 17, and seeing how much has happened to the pop singer since the release of her last record, these tracks are obviously must-hear songs. In case you need this dose of fresh tunes to kick off your morning, here's how to stream Ariana Grande's Sweetener.
You can now stream the entire album on Spotify, Apple Music, and Tidal. The 18-track album includes the singles "No Tears Left to Cry," "The Light Is Coming," and "God Is A Woman." In true whimsical Grande fashion, each song title is stylized on the tracklist in lowercase letters, even "Pete Davidson," an obvious ode to the singer's comedian fiancé. So, who wouldn't be surprised if that song is the one the couple dances to at their wedding reception?
ICYMI, Grande's new record comes after a week of viral talk show appearances, including a stint on James Corden's "Carpool Karaoke" segment and a performance of "Natural Woman" on The Tonight Show Starring Jimmy Fallon to honor Aretha Franklin. We caught snippets of her new songs when she took a road trip with Corden, but now we finally have full versions to play on a loop as much as we'd like. Speaking to Billboard in May, Grande revealed how Sweetener was different from her previous works, saying:
I've always just been like a shiny, singing, 5-6-7-8, sexy-dance…sexy thing. But now it's like, 'OK … issa bop — but issa message. Issa bop but also has chunks of my soul in it' ... I feel like I graduated almost. I feel like for a long time the songs were great, but they weren't songs that made me feel something the way these songs do.
As for the title song "Sweetener," its message and the album's general tone aim to promote resilience, inspired by the emotional aftermath of the tragic bombing at Grande's Manchester concert in 2017. Addressing her own struggles in returning to her work after the bombing in an interview with TIME, Grande has purposely included tributes to Manchester within the album. "No Tears Left to Cry" is "about picking things up," and the singer chose to include a bee, a symbol of Manchester's hardworking residents, in the final frame of the song's music video.
No surprise, but early risers have already dissected the album, rinsed, washed, and repeated. Fans took to Twitter to share their initial reactions to Grande's new songs, and the Arianators are loving their queen's latest vibes.
Only hours after its digital release, Sweetener also reached the leading spot on iTunes's Top 10 Albums chart. Grande retweeted the news from her manager Scooter Braun and added her own, very fitting message to the announcement.
Grande has yet to announce whether she is touring following Sweetener's release, as the last full live show she performed was her Manchester concert, followed by a featured performance at the One Love tribute concert honoring the bombing's victims. Even if a Sweetener tour isn't in the cards for a while, it's clear that Grande's latest album has come straight from her heart. Thanks for making music about resilience and joy, girl!