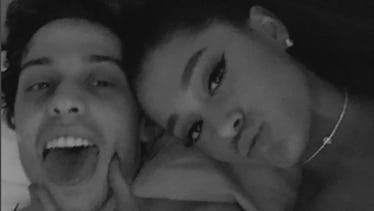 Ariana Grande's Pete Davidson Tribute Song Sends A Strong Message To The Haters
Instagram/@arianagrande
Hot tip from Ariana Grande to the rest of us: If you're going to drop a new album, do it around the same time you're getting engaged. Her new album Sweetener is finally out and fans are going wild combing the lyrics for references to her new hunny-bunny and fiancé, Pete Davidson. Sure, if you want it badly enough, you can probably find a reference to Davidson in all of her songs, but there are a few Ariana Grande "Pete Davidson" lyrics that are just too hard to ignore.
Fans first learned about Grande's new album in early May when she visited The Tonight Show Starring Jimmy Fallon and teased some specifics. Just a few days later, she shocked the world when she announced her breakup with her longterm ex-boyfriend Mac Miller. Just a few weeks after that, Davidson and Grande went public with their fast and furious romance and now she has a ring on her finger. Life, man. All of this to say, it's more than possible Grande and Davidson were building a relationship during the creation of Sweetener whether they were aware of it at the time or not. Here are a few lyrics from the song that definitely might have been inspired by Saturday Night Live star:
I thought you into my life, woah / 
Look at my mind, yeah / No better place or a time / Look how they align / Universe must have my back / Fell from the sky into my lap / And I know you know that you're my soulmate and all that / I'm like ooh, ooh / My whole life got me ready for you, ooh
 Got me happy, happy
 / I'ma be happy, happy, yeah
Ah, the feelings of new love! While some listeners might have expected a track in honor of a future husband to be an epic ballad, the bubbly "Pete Davidson" keeps it simple. The dreamy melody is no frills and uncomplicated and doesn't get bogged down by production — it's just Ari gushing about her "soulmate" and how he makes her feel. At one point she promises: "Won't get no crying from me." Perhaps she's harkening back to her lead single "No Tears Left to Cry," a hopeful anthem about recovering from an event, such as a breakup. Could "Pete Davidson" be the unofficial reprise? The syrupy track proves that after the rain comes the sunshine, even if it's unexpected — this seems to be one of the themes of the rose-colored album on the whole.
Ariana teased the lyrics to "Pete Davidson" back in May via social media, although fans might not have been aware at the time. "i thought u into my life" she captioned an adorable pic of Pete kissing her tenderly on the cheek.
Ariana may have conjured Pete in her mind, but he was immediately smitten with her, so it sounds like the romance was meant to be. The comedian recently revealed to GQ that he wanted to put a ring on it the day he met her.
"The day I met her, I was like, 'Hey, I'll marry you tomorrow,'" Davidson explained to the mag. "She was calling my bluff. I sent her a picture [of engagement rings]. I was like, 'Do you like any of these?' She was like, 'Those are my favorite ones,' and I was like, 'Sick.'"
Talk about love at first sight. Could these two be any cuter? And now their courtship is forever commemorated in song. I'll certainly be singing along for the rest of the summer.