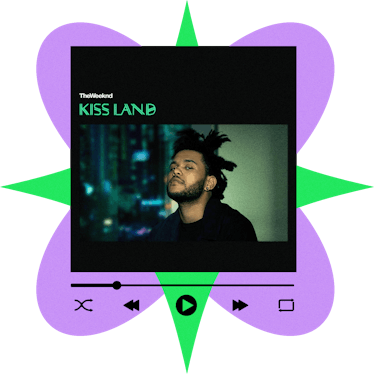 I'll Never Forgive Y'All For Sleeping On The Weeknd's Kiss Land
This underrated album walked so Dawn FM's disco-slicked lithe could run.
Lindsay Hattrick/Elite Daily
The Weeknd might be the self-proclaimed king of the fall, but that crowning title also describes his knack for building expansive worlds around his albums. With every era comes a new scintillating character, such as his bloody After Hours persona or his elderly clone that's trapped in purgatory on Dawn FM. These beings add such interesting layers to the singer's music, and pulls listeners into a cinematic rollercoaster filled with twists and turns that'll linger on your mind for weeks. Years, even. That's the beauty behind his sonic madness, after all. However, not all of The Weeknd's immersive eras have stuck with fans. Enter Kiss Land, his 2013 masterpiece (but weirdly, a flop to others) that's had me in a chokehold for nearly a decade.
It's always blown my mind how much Kiss Land flew under the radar, considering it's more timeless than his mainstream contemporaries Starboy and Beauty Behind The Madness. For context, Kiss Land was promoted as The Weeknd's debut, even though it's technically considered his sophomore album. IYDK, Trilogy — a combo of his first three legendary mixtapes: House of Balloons, Thursday, and Echoes of Silence — came out the year prior as a re-released album.
Kiss Land was a commercial failure, and music critics at the time gave the project rather questionably low ratings. Fans were also split on this release: Either you really liked the album or didn't care for it. That's not to say it didn't leave a lasting impression on its cult followers and The Weeknd himself, who has given the album some well-deserved love over the years — as he should. Kiss Land is a damn good body of work, and has helped mold the world behind his latest releases.
In a 2021 interview with GQ, The Weeknd explained how Kiss Land sonically inspired Dawn FM. "If it wasn't for Kiss Land, I wouldn't have been able to make [Dawn FM]. That song that you just heard? That's Kiss Land, man," The Weeknd said. "It's just me understanding how to use Kiss Land now, in my craft. But it's definitely my most honest record. I was the most naked. Most vulnerable."
That vulnerability pulses on Kiss Land, where he revels in his newfound fame at the time through haunting melodies. As The Weeknd described in his 2013 Road To Release documentary, this album allowed him to travel and tour the world for the first time. Since he never left his hometown of Toronto for nearly 21 years, he was in awe that another world existed outside of it. On Kiss Land, he escaped the claustrophobia of Trilogy — a nod to his trippy, drug-binged tales in Toronto — and found inspiration in the furthest place he'd ever visited from home: Japan.
"[Tokyo] really is a different planet. There's a certain order that almost haunts it," he said in the documentary, which sees him wandering the streets of the city with his team. "I find it beautiful; it's just so different. I felt like a contrast walking the streets."
Fusing that unfamiliarity with his soft spot for cinema (specifically, filmmakers like John Carpenter and Ridley Scott), The Weeknd produced a gnawing horror movie of an album that's both fascinating and eerie. Unsurprisingly, his darkest sh*t is one of his best creations. That looming drawl glides in the album's sound design, which toy with menacing drum patterns and minor synths to create this space of unease. That discomfort is necessary, as it perfectly represents The Weeknd's state of mind while touring in a new atmosphere.
I often find myself listening to this album with headphones rather than through a speaker, just to hear those transitions and richly layered textures in tunes like "Love In The Sky." There, the singer confesses how his new fast-paced lifestyle has shifted his thoughts on commitment. The reality of being in a serious relationship is laughable to him; however, he's still a man of passion, so he promises to keep his mystery woman satisfied in other ways. Lyrically, he's brooding like the toxic anti-hero on his previous mixtapes. Yet, the production of those raunchy, Phill Collins-tinged guitars and ghostly melodies are crisp upgrades from those works.
Kiss Land has savory moments on other songs, too. Take "Adaptation," a nearly five-minute confessional that reflects on a past relationship, which is interesting considering he couldn't handle commitment on "Love In The Sky." Besides that, The Weeknd offers some of his strongest vocals here, with his harmonies teetering between a broken wail and soft high notes. His stellar vocal streak continues on "Tears In The Rain," where his falsettos twinkle against those rippling synths, enough to give you goosebumps.
The self-titled track, an absolute banger, oozes a nihilistic groove that would've excelled on Trilogy. Beginning with a cheeky nod to his um, large size, the singer grittily details his sexual desires while in a drug-infused fog. For new fans, this track might feel jarring, but for listeners who witnessed "Initiation" or "XO/The Host," this dark source of intimacy on "Kiss Land" is almost vanilla.
The album's ninth gem, "Pretty," is an ominous melodrama about The Weeknd coming home to his partner who cheated on him while he was on the road. His Dawn FM single, "Is There Someone Else?," echoes a similar theme; however, "Pretty" has an underlying eeriness that you're almost terrified to know what he would do if the woman in question was unfaithful. Meanwhile, on the criminally underrated "The Town" (which sounds just as magical slowed and reverb), The Weeknd recalls a woman who "made him feel good" before he left for tour.
These familiar trappings of melancholic-R&B-meets-faint-electronica shine on Dawn FM. While Kiss Land tells a jaded tale of The Weeknd leaving his comfort zone while engaging in a continued lifestyle of toxic relationships and sex, Dawn FM sees the singer repenting those sins. However, there's a part of his Dawn FM character that still relishes in those dark moments, hence the younger version of him in the "Gasoline" video fighting his older-self that's trying to "protect him." While it's clear Kiss Land should've received the commercial success his two other pop albums did, it's thrilling to see elements of such an unappreciated album thrive in The Weeknd's newer works.