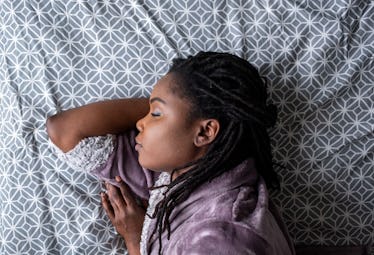 Here's What To Do If You Have A Sex Dream About Your BFF
Have you ever woken up from a sex dream about someone so random and totally unexpected that you're just like, "WTF?" Same. But even more strange is when you wake up from a sex dream with someone really close to you, like a sex dream about your best friend. It's easy to shake off a sex dream about a celebrity or some rando from your yoga class, but when it's your ride-or-die bestie, it may really give you pause (not to mention make things awkward the next time you hang out). What does dreaming about your BFF mean sexually? Is this a sign you need to re-examine your feelings about them? Are you totally panicking right now?
Take a deep breath. According to Dr. Donna Oriowo, a licensed independent clinical social worker and therapist, sex dreams about friends are nothing to freak out about. "It is super common to have sex dreams that involve the people you know, including your BFF, regardless of your sexual orientation," she tells Elite Daily. And no, it doesn't necessarily mean you're secretly into them.
Shamyra Howard, a sexologist, licensed clinical social worker, and sex and relationship therapist, agrees. She adds that when you consider all the dynamics that close friendships and romantic relationships have in common, it really shouldn't come as a surprise if you dream about sex with a friend. "Most close relationships are built on vulnerability and trust, which is the foundation for intimacy," she tells Elite Daily. "Think about it: You probably share the best and worst parts of you with your friends, and in turn, you receive unconditional support. No wonder why your friend is in your sex dream!"
While that could possibly be a relief, especially if you feel awkward about the dream, you may still wonder if there is a deeper meaning here. After all, research has shown that dreams are often a continuation of reality, or at least a sign of something you're working through subconsciously. Even if you don't actually want to get it on with your friend, you might be craving something more in your relationship with them — whether it's emotional closeness, mentorship, or a stronger foundation of trust. That said, here's what to remember next time your bestie makes a guest appearance in your sex dream
The ultimate takeaway here is that although having a sex dream about your friend may be surprising — or in some cases, illuminating — it's really not that big of a deal. Sex dreams are definitely not anything you should feel bad about or ashamed of, and they can even teach you a thing or two about your relationship with your friend. Try not to sweat this one.
Experts:
Donna Oriowo, Ph.D., licensed independent clinical social worker and therapist
Shamyra Howard, LCSW, sexologist, licensed clinical social worker, and sex and relationship therapist
Stefani Threadgill, Ph.D., LMFT, sex therapist
Lauri Loewenberg, dream expert
Sources:
Fogli, A., Maria Aiello, L., & Quercia, D. (2020). Our dreams, our selves: automatic analysis of dream reports. Royal Society Open Science, 7(8), 192080. https://doi.org/10.1098/rsos.192080
This article was originally published on