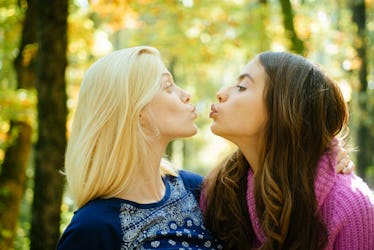 25 Women Who've Hooked Up With Friends Reveal How It Changed The Dynamic
Shutterstock
There's no shortage of Hollywood movies about friends with benefits that describe how hooking up with a friend changes the relationship. Though rom-coms generally show two endings to this story — they either hate each other or end up getting married — in real life, hooking up with your friends can come in all shapes and sizes.
From kissing one time and deciding to never do it again to sleeping together and navigating polygamy, there are millions of ways to go through the motions of getting frisky with a friend. Of course, without clear communication, hooking up with your friends can get a little dicey. If you've secretly been in love with your bud for a year and they're not actually looking for a relationship, or you're on different pages about what the hookup meant, getting physical with a friend can lead to some major heartache. While sometimes things can happen in the heat of the moment (trust me, I've been there), discussing boundaries and intentions before turning up the heat can save everyone from some unwanted awkwardness.
Elite Daily asked 25 people if hooking up with a friend changed their relationship, and what they said really covers it all.