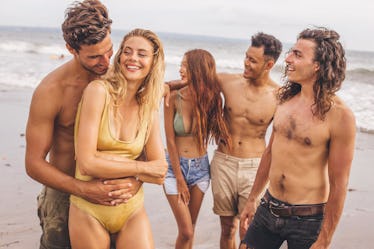 11 Brutally Honest Phases Of Hooking Up When You're In The Same Friend Group
Having a steady hookup buddy can be fantastic, especially when you don't want something serious, because, you know, a girl has needs! But despite seeming like a pretty sweet setup for everyone involved, it can sometimes be surprisingly hard to find a solid partner for this kind of chill arrangement, which is how you may accidentally (on purpose) find yourself snuggling up to someone a little closer to home. Closer, as in, someone in your friend group. Sounds ideal, right? I mean, you already like them, but hooking up when you're in the same friend group can be tricky. The lines can get blurry quickly, and god forbid, what's going to happen to the group if it all crashes and burns? But still, sometimes it just happens, and when it does, there are several familiar phases that we all go through.
Friendship is complicated, and so is intimacy. Add those together and throw in a handful of other people as collateral damage (and who you just know are going to have some strong feelings on the subject) and it can get really, really complicated. Now to be clear, I'm not saying you shouldn't hook up with a friend — you never know what potentially amazing things could come of it — just make sure you know what you're in for. If you don't, well, it'll go a little something like this.