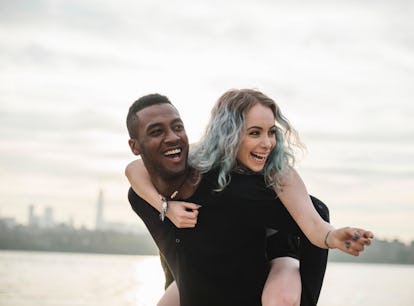 6 Signs You're Falling Hard For Your Bestie, According To Experts
There's a reason why you're so jealous of everyone your BFF dates.
OK, I'll say it — sometimes best friends are way better than significant others. You don't have to worry about looking flawless when you're around them, and you can be your absolute most embarrassing self and know that they'll still love you. But things get tricky when the lines start to get blurred, so it's best to look out for the subtle signs you might be falling in love with your best friend.
You've likely heard stories about people falling for their bestie when they were least expecting it, but how do you know if this is happening to you? Sometimes it's difficult to discern when your feelings are shifting. According to relationship coach and behavioral scientist Clarissa Silva, the key to differentiating between romantic and platonic interest is mainly sexual attraction. Sometimes, you feel intense adoration for someone that makes you want to be closer to them and that's perfectly platonic. But as Silva previously told Elite Daily, "With a romantic crush, you have the same desire plus sexual curiosity and attraction for them."
If you suspect you may just be falling in love with a friend, then experts say to keep a close eye out for these very telling signs.
So if your friendship fits into any of these categories, what can you do about it? Winter suggests you pose a hypothetical question to yourself. "If I could only choose one classification for this person, which would it be: Having them as a friend, or having them as a lover? This will be your guide to the necessary actions," she advises. If you're sure you want to pursue something more, it might be time to broach the subject.
"Make sure that you are truly attracted to them romantically and not falling for them because they are convenient," Silva notes. "In cases where you intuitively feel it may be reciprocated, you can broach the subject of transitioning from a friendship to a relationship … However, if you doubt it's reciprocal, broaching the subject will alter the nature of the relationship in a disempowering way to you." You'll have to trust your gut when deciding how to talk to them about your feelings.
If you don't think your friend feels the same about you, you may have to distance yourself from them for a while until your feelings fade. "In general, suppressing your feelings is not advisable and not realistic," Silva says. "Your friend will most likely pick up on your behavioral clues … even if you try to suppress your feelings, they will present themselves in some form." She suggests taking a step back to try to discern where these intense feelings came from. It is possible to maintain the relationship while still giving yourself space to work through your emotions.
Ultimately, try not to panic. It's more common than you might expect that best friends fall for one another — after all, you already know you get along so well! Every friendship is different, so it will be up to you to determine what the best course of action is for the two of you. Maybe it's elevating the relationship, or maybe it's taking space apart to let the feelings fade. If your pal really loves you, they'll understand and want to help support you through the process.
Experts:
Clarissa Silva, behavioral scientist
Dr. Rhonda Freeman, clinical neuropsychologist
Susan Winter, relationship expert
Editor's Note: This story has been updated by Elite Daily Staff.
This article was originally published on