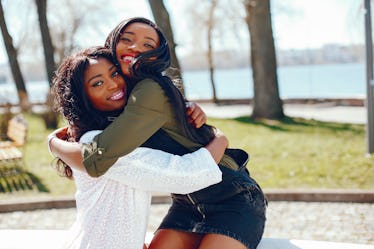 Your Bestie Is Dubbed "BFF" For These 9 Reasons, Because Where Would You Even Be Without Her?
When it comes to friendships, you may have hometown friends you grew up with who you're still really close to. You also might have your college roommates, in addition to your work squad that's always game for a fun plan after work. But, your best friend in the world holds an extra special place in your heart. They are your true soul sister and favorite person to be around — but what makes your friend a best friend?
The title of BFF is something really important and special that you're not willing to hand out to just anyone. It's a title that's earned over the course of time. Of course, the unique qualities people are looking for in a best friendship vary from each individual, but every BFF likely does most — if not all — of these nine things.
Once you've locked down your true best friend, you keep them close. You don't know what you would do without them, and you wonder how you got so lucky to have found them. I'm not entirely sure that I believe there's only one true love out there everyone, but I'm 100 percent sure that there are soulmates — and that's exactly what my best friend is to me.