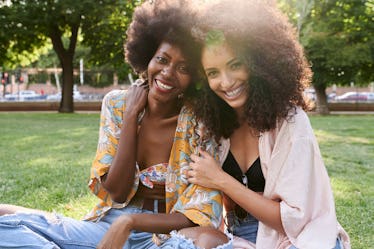 Here's How To Tell If You're Queer, According To Sexuality Experts
So, you're not sure if you're "bisexual," "pansexual," or "lesbian" to be exact, but you have an inkling you're not strictly straight. If you've been wondering, "Am I queer?", there is no simple answer to that question. On one hand, you might be able to pinpoint exactly which childhood female celebrity crush sparked a sexual awakening. Or maybe you distinctly remember a K-12 Valentine made with extra special care for a girl in your class. On the other hand, maybe you've shared a curious, impulsive kiss with a girl. Or maybe you've hooked up with another woman, either one-on-one or in a threesome, and have elected to ignore those implications. Whatever your case may be, there are def some aspects of your sexual and romantic attractions you can reflect on to answer that question.
Data from the Pew Research Center shows that more and more Americans are identifying as members of the LGBTQ+ community. As of 2017, a little more than 10 million people in the U.S. or 4.1% of Americans identified as LGBTQ+. That's up from 8.3 million people or 3.5% of Americans in 2012, according to the same researchers. Interestingly enough, millennials lead the pack when it comes to identifying as queer. In 2017, LGBTQ media organization GLAAD found that 20% of 18- to 34-year-olds identify as LGBTQ+ in the U.S.
If you're curious about whether you're queer, here are some aspects of your desires to consider.