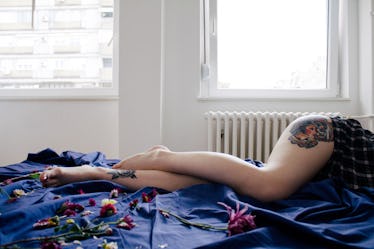 3 Most Common Sex Dreams & How To Interpret Them, Because They're So Normal
Dreams can be such an interesting part of ourselves to observe, it's no wonder we spend time wondering what they mean. Dreams can feel so intense in the moment, and then miraculously as we wake up, they fade into the background of our minds. But dreams aren't always sunshine and butterflies. The most confusing (and often disturbing) dreams for some people are often the ones that involve sex. The most common sex dreams and what they mean can be tricky to figure out on your own, especially if you don't speak the language of the subconscious mind. That's why I spoke with professional dream analyst Lauri Loewenberg about sex dreams and what they're really trying to tell you.
"The important thing to remember about sex dreams is that they aren't necessarily about a physical union you want but rather a psychological union you need," Loewenberg tells Elite Daily.
So, if you're freaking out about having dreamt about hooking up with your sister's husband, then chill. According to Loewenberg, sex dreams actually play a pivotal part in our quests to become our best selves.
"Spicy or awkward, they show you what you lack," explains Loewenberg. "Typically, there is some aspect of your dream lover you need to connect with and unite into your own personality in order to better yourself. Less often, the sex dream can be the result of you making a connection with that person on some level, after a deep, meaningful conversation, perhaps."
Here are three common sex dreams and how you can interpret them.