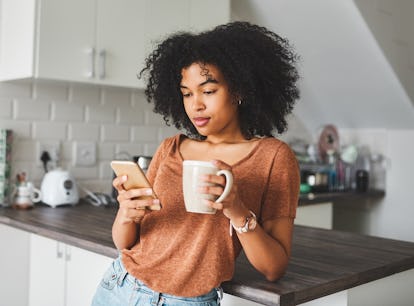 Here's How To Restart A Conversation With Your Crush That Fizzled Out
Bring back the flirtation.
Moyo Studio/E+/Getty Images
Messaging plays an inescapable role in dating culture. From dating apps to texting, chances are that even early on, you and your potential flame have been sending messages — both subliminal and literal. When you're texting a crush and you fear the conversation has dwindled, it's easy for negativity to creep in. Why did I text them that? Who says that? I shouldn't haven't tried so hard. If texting stress has you spiraling, it can be difficult to know how to restart a conversation with your crush that fizzled out.
Texting a new crush can feel like packing before a day at the beach. Coordinating the chairs, towels, coolers, and mulling over whether or not bringing an umbrella is extra (it's not), then finally hauling everything from the car to the sand — it's no small feat. Like setting up for a first date, you'll have fun when you get there, but actually getting there can be difficult, and it's easy to lose interest or momentum.
If you have your interest's number and you've talked before, you're on the right track, right? To get to the bottom of this conundrum, Elite Daily spoke to some experts about the role texting plays in flirting and some ways for how to revive a conversation other than the dreaded "WYD?"
If you're courting a crush and the convo seems to be dying out, try asking a question or bringing up a point of mutual interest. If you're getting mixed vibes and you don't feel like you want to keep talking, that's OK, too. And sending something along the lines of the examples provided can be a casual way to engage conversation without being too intrusive.
Try not to dwell on the fact that they haven't texted you first. Remember that a conversation goes two ways, and if you're nervous to restart it, it's very likely that your crush could be, too. Go out on a limb and make your move — you never know what might happen.
Experts:
Thomas Edwards Jr., founder of The Professional Wingman
Cherlyn Chong, dating specialist and creator of the Get Over Him program
This article was originally published on