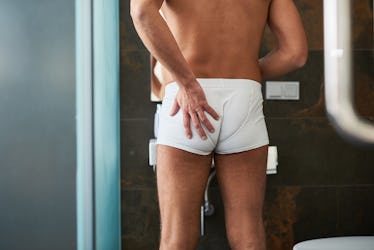 Welcome To Pegging 101: Here's How To Do It Safely
Ingredients: consent, lube, and an open mind.
Shutterstock
"Butt stuff" comprises a murky area of sex that some straight and straight-passing couples are mystified and enchanted by. Under this umbrella, pegging is especially fraught with stigma and mystique. If you're a vagina-owner who's been wondering how to go about your first time pegging, know this: There are a lot of moving parts (literally) when it comes to the physical and emotional success of this back-door operation. First off, what does it mean to peg someone? Pegging, by definition, is the "the sexual act of a woman anally penetrating a man with the use of a dildo or strap-on," according to sexologist and reproductive justice activist Michelle Hope.
Anal penetration can also come in the form of fingering, using a vibrator, and using your tongue on the anus, aka rimming. In general, those who like butt stuff say it feels "dirty, in a sexy way" and "hot." Pegging can feel good for men and people assigned male at birth, Hope says, because there are "a lot of nerve endings in the anus or rectum." It also feels lovely because of "prostate stimulation, which can cause orgasm and ejaculation."
If you've been quietly interested in learning how to peg someone but have felt unsure of how to bring it up with your partner, Luke Thao, a Licensed Marriage and Family Therapist Associate (LMFTA) and member of the PNW Sex Therapy Collective based in Seattle, says the first step is a level of self-acceptance. He says that when his clients are introducing a new form of play into the bedroom, he always emphasizes "the process of learning to be comfortable with your fantasies. So many of us have fantasies but it's in the interpretation or valuation of our fantasies that a lot of people get caught up. So having that space for yourself or with a group of friends or with a therapist to be able to explore that fantasy space is where I'd start. And then take it into the partnered space."
Pegging is pleasurable for the person getting pegged as well as the pegger, because of the way it plays with and subverts traditional gender roles. Typically, women and femmes are the receiving partner in heterosexual sex. The chance that pegging offers women to penetrate and even dominate in bed, too? That can be super exciting. Here is everything you need to know about pegging your partner for the first time.
This article was originally published on