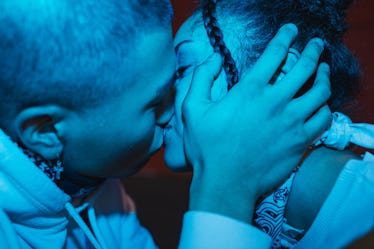 13 Steamiest Songs Of 2018 To Add To Your Sex Playlist For A Rocking Good Time
Lots of people like to listen to music during sex. If your current sex playlist is feeling a little outdated, though, it might be time to press pause on those old tunes and replace them with a few more recent tracks. 2018 has been a major year for music, and your bedroom soundtrack should reflect that. This list of 2018 songs for a sex playlist will get you out of your standard routine and have you (and your sex life) feeling refreshed in no time.
From Liam Payne and Rita Ora's Fifty Shades Freed hit, to Ariana Grande and Nicki Minaj's fifth song together, there have been a number of sexy collabs to hit the airwaves this year. Longtime favorite solo artists like Nick Jonas and Lana Del Rey have released new music in 2018, too, including songs that are perfect for playing while you're hooking up.
Research shows that listening to music during sex can not only enhance an already pleasurable experience, but it can also make you feel more connected to your sexual partner and decrease any negative emotions. You've got nothing to lose and so much to gain by adding these songs to your sex playlist. So, what are you waiting for?