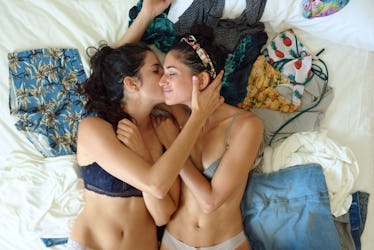 The Science Behind Your Body's Response To Music During Sex Is Fascinating
A friend of mine — let's call him Ralph* — once told me about a musical experiment he was conducting with his girlfriend for a few months. "With" isn't the right word, but if I said he was experimenting on her, you'd probably have a lot more questions. It's not as bad as it sounds but it is pretty unusual. Basically, he played music during sex in the hopes that his girlfriend would eventually only think of sex whenever she heard one of the songs on his playlist. The idea comes from Russian scientist Ivan Pavlov's conditioning experiment, in which he trained dogs to drool when they saw lab coats. The experiment was inhumane by all accounts, but it proved that you can have a learned behavioral response to an otherwise neutral stimulus.
Ralph's experiment didn't wind up working out, but he's not the only person who enjoys listening to music during sex. He certainly isn't the only person with a sex playlist, either. I mean, Khloé Kardashian's sex playlist features John Mayer, and Ivanka Trump's allegedly includes John Legend. There are no rules here, so don't judge me for having Bruno Mars on mine.
Still not convinced you need a sex playlist? Maybe this video of Jenna Dewan dancing for Channing Tatum will change your mind.
Now that we're on the same page, there's a reason music and sex go so well together, and it actually has a lot to do with science. Neuropsychologist Dr. Rhonda Freeman says that music is likely to affect three regions of the brain — the reward or pleasure system, the social affiliation or bonding system, and the limbic system (which processes emotions).
When triggered, the reward system, for example, involves dopamine and endogenous opioids. Dr. Freeman explains, "Dopamine is a neurotransmitter linked with desire, wanting, craving, motivation, or anticipation of someone or something — in this instance, of our intimate partner. And endogenous opioids are the hedonic response, which includes pleasure and enjoyment."
"Those systems not only allow the pleasurable experience of sex to be amplified with music, but they also allow music to deepen your connection with your partner while subduing negative emotions," she explains, and that has a lot to do with oxytocin.
Here's how else music affects your brain when you're being intimate with your partner.