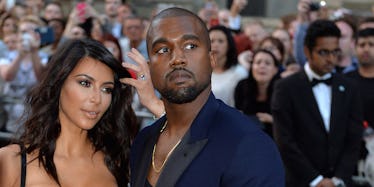 The Ultimate Sex Playlists Based On Your Favorite Celebrity Couples
Getty Images
Let's talk about gettin' you some celeb-style inna'course, baby.
Everyone in this world has two things: a favorite celebrity couple and a Spotify playlist.
Those two things bond us. They unify us as a people and enable us to find common ground, even during the tensest of times. I'm convinced President Obama lifted the trade embargo on Cuba after he and Raúl Castro talked about whether they thought Gigi Hadid and Zayn Malik were going to be a thing. They then laughed and ate pizza, discussing whether they thought Joe Jonas finally found a home as the front man for DNCE.
You know what also unites us as a people? HARDCORE BOOT KNOCKIN'.
I'M TALKIN' P's TOUCHIN' V's, AND V's TOUCHIN' V's, AND P's TOUCHIN' P's, AND THREE P's TOUCHING FIVE V's AND -- You get it. Sex stuff.
Anyway, what if I told you there was a way to combine these three things into one mind-blowing experience? Well, there is, and your genitals are going to love it.
Using science I scienced myself, you can now choose with complete certainty a playlist based on your favorite celebrity couple to use for your sex-seshes.
Prepare to break your brand new IKEA bed frame, you Will and Jada wannabes!
Taylor Swift and Calvin Harris: Cutesy Sh*t Sex
Gigi Hadid and Zayn: In-Your-Face, Disgusting, PDA Sex
Kanye West and Kim Kardashian West: "Oh Yeah, I Forgot. There Is Another Person Here" Sex
Tyga and Kylie Jenner: Straight-Up Mouth-Stuff Sex
Beyoncé and Jay Z: The Underwoods Of Music
BONUS! Justin Bieber and Selena Gomez: Terrible, Awkward, Accidental Hook-Up With An Ex Sex
NOW GET TO SMASHIN'!