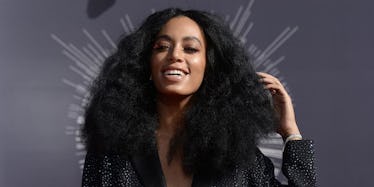 The Ultimate Playlist Of Grammy-Nominated Songs To Listen To During Sexy Time
REUTERS
The Grammys are right around the corner so you know what that means... time to make SWEET, SWEET LOVE to all of the sexiest nominated songs!
OK, fine. The Grammys are also about, like, appreciating the arts and giving Beyoncé something to celebrate aside from the impending birth of her twins. I think my first reason is more fun, though.
But what songs should you make sweet love to?! That's where I come in. Well... not in the making love part. But I will help you with the love-making process. 
From the foreign songs to the hard rock songs to the instrumentals to the rap songs, I listened to EVERY SINGLE Grammy-nominated song and picked out the ~sexiest ones~ to create the ULTIMATE sexy-time Spotify playlist to make sweet, tender loooooooove to.
And don't let my terminology stop you! This playlist is not solely for love-making.
It can be used as a catalyst for all sorts of intercourse, from boinking to porking to baby-making to bumpin' uglies to some good, old-fashioned fucking.
WARNING TO ALL BEYONCÉ FANS: I'm not trying to shade your queen, she's just not on the playlist because she's not available on Spotify. I'M SORRY.
Here's the "Formation" music video to pay her some necessary homage:
Now, save it to your library ASAP and tell bae (or the guy you just started talking to on Tinder) to get ready for a hot, steamy night.
1. "Kiss It Better" by Rihanna
This is for when you want to hook up with that toxic person you can't get rid of because the sex is just too dang good.
2. "All Around You" by Sturgill Simpson
Listen when you're consummating your love on your wedding night.
3. "Come and See Me" by PARTYNEXTDOOR
OK, so THIS tune is for another late night with that guy you refuse to admit you're in love with.
4. "Love Yourself" by Justin Bieber
This one by the Biebs is great when you have sex with your ex who's still in love with you because you're feeling lonely.
5. "Hello" by Adele
Adele is super deep, so save this for when you have sex with someone, but you're thinking about your ex the whole time.
6. "Cave Me In" by Gallant
This is perfect for make-up sex with your on-again, off-again boyfriend.
7. "One Dance" by Drake
For hooking up with that random, hot guy you spent all night dancing with at the club:
8. "Can't Wait" by Jill Scott
For Skype sex with your long-distance BF:
9. "Tearing Me Up" by Bob Moses
For sex with the guy you play a million games with:
10. "Epoch" by Tycho
For sex with the guy you just became official with:
11. "33 God" by Bon Iver
For breakup sex when you love each other, but the circumstances just aren't right:
12. "Weight in Gold" by Gallant
For romantic love-making in a bougie hotel bed:
13. "Pregúntale Al Cielo" by Laura Pausini
For emotional sex after you show your vulnerable side:
14. "Dangerous Woman" by Ariana Grande
For forbidden sex with that guy who's off limits:
15. "29 #Stafford APTS" by Bon Iver
For morning sex after date night:
16. "Love in the Dark" by Adele
For sad sex when you know he doesn't love you anymore:
17. "All I Ask" by Adele
For when you have incredible sex for the first time in forever:
18. "Turnin' Me Up" by BJ The Chicago Kid
For happy sex after date night with your boyfriend:
19. "Permission" by Ro James
For the first time you have sex with a guy you really like:
20. "I Do" by Musiq Soulchild
For sex with your first love:
21. "Needed Me" by Rihanna
For angry sex with the ex you hate:
22. "Cranes in the Sky" by Solange
For reunion love-making with your soulmate after he broke your heart:
23. "The Three of Me" by William Bell
For an afternooner with your longtime boyfriend:
24. "Sleeping With The One I Love" by Fantasia
For cheating on your boyfriend with your ex:
25. "Angel" by Lalah Hathaway
For sex after you get engaged:
26. "Exchange" by Bryson Tiller
For sex when you know you're about to lose your on-again, off-again boyfriend for good:
27. "Lake By the Ocean" by Maxwell
For sex by the beach on vacation:
28. "LUV" by Tory Lanez
For drunk sex with your boyfriend:
29. "Vice" by Miranda Lambert
For sex with your ex who cheated on you:
30. "Never Be Like You" by Flume
For late-night sex with the guy who your friends hate:
See? There's literally a song for EVERY occasion. Now go forth and fornicate!